10/27/06
OK… Here's another "Whoozdis?" Just one photo this time. The young lady front and center is my cousin, Mary Parrinello, a frequent patron of the Pop House around 1960-62. Who is the dude she and all the other girls in the picture are looking at? Mary couldn't remember, but one of her sisters thinks it was Bobby Rydell. Is that right? Let's hear what you think. Bonus points if you can identify the other girls, too.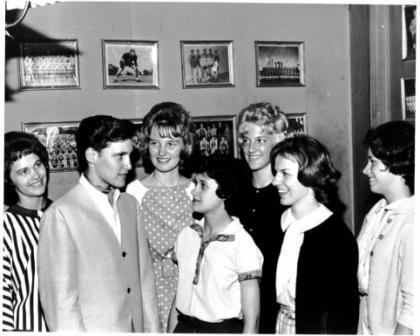 (Photo courtesy of Stankewitz family)
10/24/06
Mike Matheson, who worked part time for Madison/Janesville booking agent Ken Adamany, revealed some surprises concerning individuals in a couple of groups who performed at the Pop House. Here's one revelation.
Sometime around 1959-1960 it appears that a band from New York named Ronnie Dio and The Prophets played the Pop House. Ronnie disbanded The Prophets in 1967 and formed The Electric Elves (later known as The Elves and then, simply, Elf). In 1975, he formed Rainbow (song: "Run With the Wolf") with Deep Purple's guitarist Richie Blackmore. After leaving Rainbow in 1978, Ronnie was invited to replace Ozzy Osbourne in Black Sabbath. He left with Sabbath's drummer to form his own band, Dio, in 1982. Ronnie re-joined Black Sabbath for an album and world tour in 1991, before re-forming Dio in 1992. Whew! Ronnie Dio (vocals, bass) and the Prophets (Nick Pantas, guitar; Dick Bottoff, guitar; Tom Rogers, drums) were the backing band for Johnny Tillotson at the Pop House in 1964.
Kevin Van Kampen remembers hearing Paul and Paula having a loud argument in their dressing room on Portland Avenue just before performing as sweethearts on the Pop House stage, probably during the summer of 1964. Backing band for the duo was Danny & the Velaires. If you were there that night, share some of your memories.
10/17/06
The Flock is another band that gained international notoriety, beginning their career in Chicago and performing at the Pop House along the way. Unfortunately, I don't think I was in the audience that night. (However, I did eventually buy their LP's "The Flock" and "Dinosaur Swamps." As I wrote this post, I was listening to a CD compilation, "Flock Rock: The Best of the Flock.")
**UPDATE** Through the help of comments from Tom Wolter, the members of this 1966 version of The Flock have been identified. They are, left-to-right: Fred Glickstein (guitar, organ, trumpet, vocal), Rick Canoff (sax, vocal) Ron Karpman (drums, vocals), Ricky Mann (guitar, backup vocal), Jerry Smith (bass, backup vocal). In 1967 they added Tom Webb (sax) and Frank Posa (trumpet). By 1969, Ricky Mann had been replaced by Jerry Goodman (violin, guitar). John Gerber (sax, flute, banjo) replaced Tom Webb, who didn't want to tour Europe. Webb stayed active with the band, recording and writing songs. He just didn't tour. Tom Wolter adds that at the time of this photo, Jerry Goodman may have been a roadie with the band before joining. Thanks, Tom, for providing the update.
Here's more background info… Early on, Rick Canoff and Fred Glickstein had a garage band called the Exclusives in 1965 when they decided to rename themselves the Flock. The Flock recorded some successful independent singles (e.g. Take Me Back) over the next couple of years, during which time they performed at the Pop House. The Flock really took off after virtuoso violinist Jerry Goodman joined the band. Their distinctive jazz-rock sound began to take shape and flourish.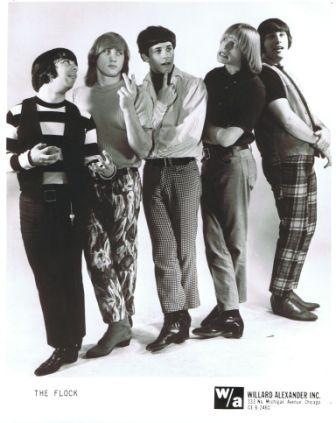 (Photo courtesy of the Stankewitz family)
10/16/06
I heard from James "Jimmy Soul" Holvay of the great Chicago show band, The Mob (Whoozdis photo #2) who played the Pop House once or twice. Jimmy identified each of the Mob-sters for me and provided more information for the book. From left to right they are: Gary Beisbier, "Big Al" Herrrera, Mike Sistak, Jimmy "Soul" Holvay, Tony Nedza, "Little Artie" Herrera, Bobby "the Cheeze" Ruffino, Jimmy Ford. The Mob recorded a number of original songs… "Open The Door", "I Dig Everything About You" and "Give It To Me," all penned by Holvay and Beisber. They also composed million selling records for the Buckinghams including "Kind of a Drag", "Don't You Care", "Hey Baby" and "Susan."


(Photo courtesy of the Stankewitz family)
10/10/06
Here's a page that you can view to help identify individuals and groups. It's called "Whoozdis? Pop House Photo Gallery." Your help is needed and it could be fun. Click below to have a look…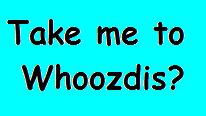 10/09/06
Followed up on a sixties Beloit band named The Chevelles (not the current Australian power pop group) with band leader Tom Chekouras (guitar). Tom provided me with the line-up changes that occured throughout the history of the group. If anyone has a copy of the 45rpm single "Debbie I Love You b/w You're So Wise" recorded by The Chevelles on the Leaf label, please let me know. Here are the musicians who worked in The Chevelles over a three-year period…
Drums – Jim Hills > Ray Mckinzie > Bill Meeker
Organ – Dave Hernandez > Kevin Schmale > Chuck Amato
Lead Guitar – Bob Gosa > Tom Chekouras
Rhythm Guitar - Don Shepard > Tom Chekouras > no one
Bass Guitar – Don Stackhouse > Dan Wassman > Dave Hernandez > Don Hess
Lead Vocal – Dave Hernandez > Dave and Tom > Keith McGuire and Tom
(The final lineup of The Chevelles included Tom Chekouras, Chuck Amato, Bill Meeker, Don Hess, and Keith McGuire. This may have been the line-up that played at the Pop House when I saw them there.)
If any of you are reading this, please drop me a line. Bill Meeker (drums) went on to work with Ben Sidran and with Elvin Bishop. He also appeared on American Bandstand in 1970 with Norman Greenbaum (and Russ Dashiell and Doug Killmer) in Greenbaum's touring band.
As for Tom… after relocating to the Milwaukee area he hooked up with a band in 1973 and transitioned 100% over to keyboards. He's been a keyboardist ever since, playing a monster syntesizer rig. He currently plays in a project band (i.e. no outside gigs), getting together about once a month to play power rock material such as Kansas, Deep Purple, Styx, etc. just for the fun of it. It was great to hear from Tom.
**UPDATE** Got a chance to spend a day with Dave Hernandez and his brother Jim, both fine Beloit musicians with a long history of interesting bands. So, I'll be writing more about them in a later blog item. In the meantime, here is a photo of the Chevelles that Dave provided…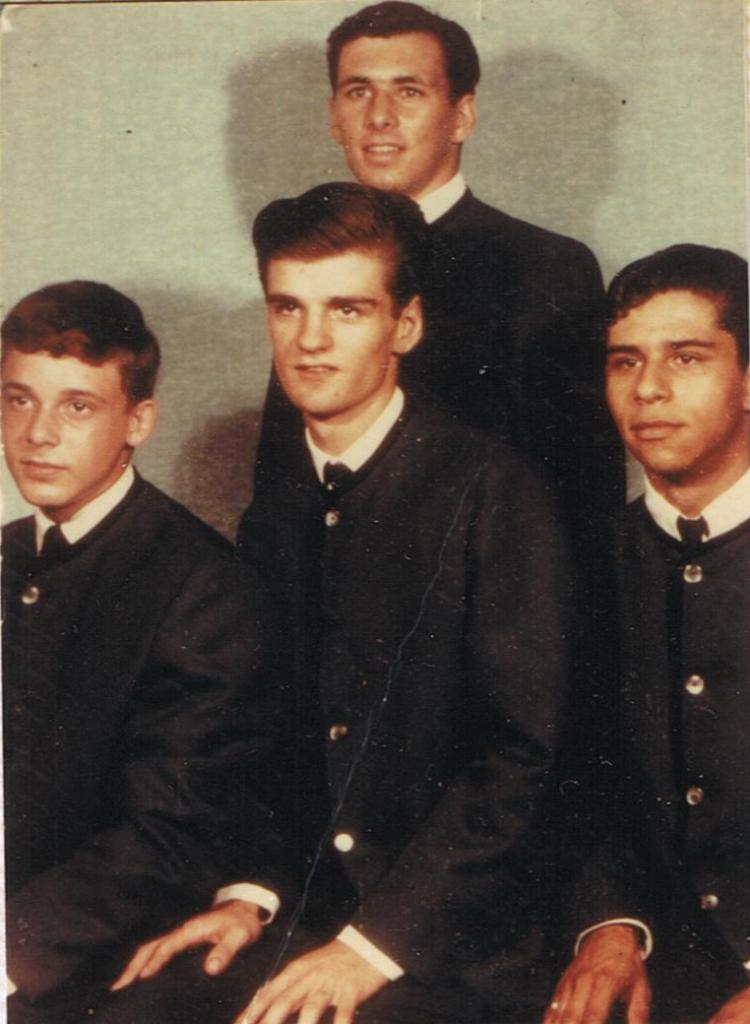 Seated left-to-right: Kevin Schmale (organ), Tom Chekouras (guitar), Dave Hernandez (bass)
Standing: Jim Hills (drums)
(Photo courtesy of Dave Hernandez)
Had the opportunity to interview Dana Buck (bass) and Brad Palmer (guitar/kybds) of The Esquires. Dana and Brad fondly remembered those days of performing at the Pop House, noting that George always offered them burgers and malts after the gigs. Dana still resides in Illinois and works in a Rockford band called The Sensations when he's not busy as account manager for Crown USA. Brad works in the health field as an RN in Wisconsin and also performs with a band called Abby Normal in Portage. Dana's twin brother Dave (drums) lives in Canada. The whereabouts of Tom Harrison (guitar) is unknown. I'll be featuring more on The Esquires in my book.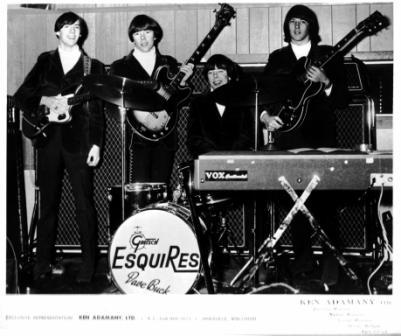 The Esquires: Tom Harrison, Dana Buck, Dave Buck, Brad Palmer
(Photo courtesy of Dana Buck)