11/20/06
Another one of the great Midwest show bands, and a favorite at the Pop House, was The Fabulous Flippers whose home base was Lawrence, Kansas. Their music was rooted in rhythm and blues, placing them among the first "blue-eyed soul" bands to travel the club circuit in the mid-1960's. They recorded a number of singles on the Quill label. Perhaps their best known recording during that time was Harlem Shuffle b/w I Don't Want To Cry.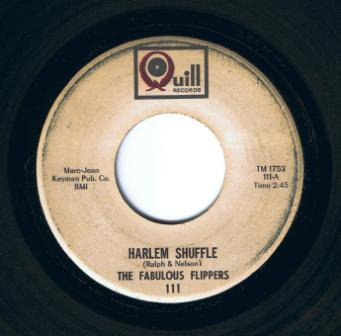 (Label courtesy of Dave Hernandez)
In 1970, they recorded an album entitled Something Tangible on Veritas Records which featured excerpts from their show-stopping "West Side Story Medley." The Flippers epitomized the successful combination of a "big sound" and a "big show," incorporating continual movement and dance steps during their sets. The Fabulous Flippers were inducted into the Iowa Music Hall of Fame in1998, and into the Nebraska Music Hall of Fame in 1999.
If you saw The Fabulous Flippers at the Pop House, leave a comment about your experience. If you can positively identify the band members in this photo, please let me know. They may include: Gary Claxton-sax, Terry Wierman-lead guitar, Jerry Tammen-drums, Dennis Fredrick-bass, Doug Crotty-sax, Danny Hein and Dennis Loewen-keyboards, guitars, and lead vocals.
***UPDATE*** I checked with author Tom Tourville (Iowa Rocked! The 1960s) who identified the Flippers in this photo as: Terry Wierman - guitar, Danny Hein - vocals, Dennis Lowen - keyboards, Dennis Fredricks - bass, Doug Crotte - trumpet, Jerry Tammen - drums, Gary Claxton - sax. (Guess I was right.) Thanks, Tom.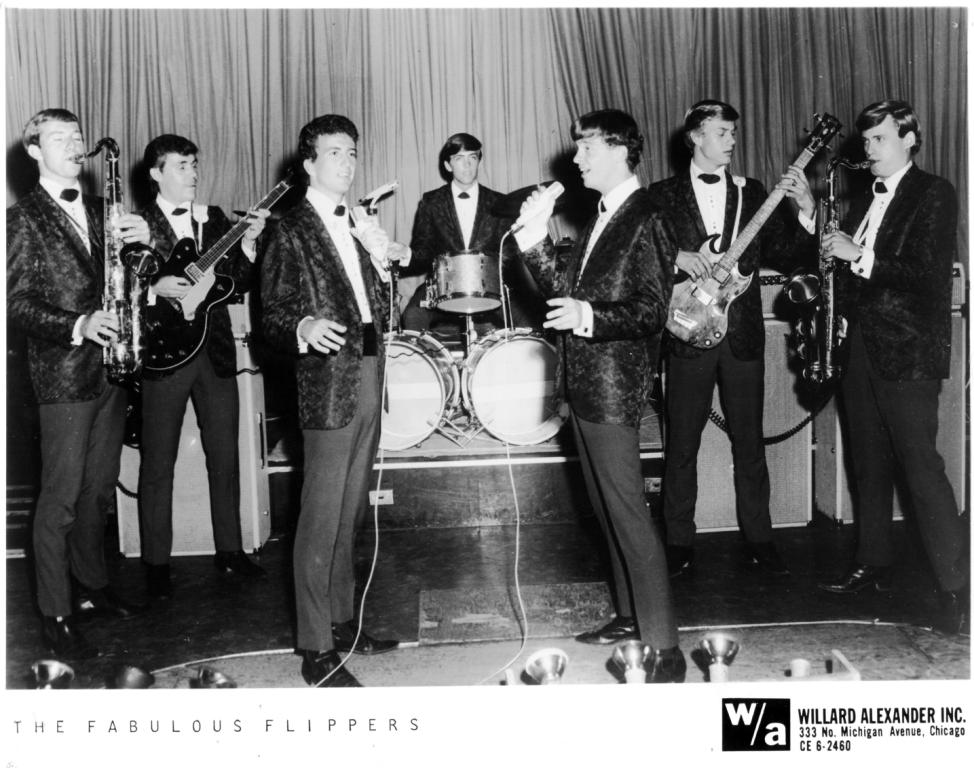 (Photo courtesy of Stankewitz family)
11/17/06
I'm trying to remember the businesses on the four corners of Portland Avenue and Fourth Street in Beloit circa 1960. I remember there was an ice cream shop on the southwest corner that was eventually torn down to make room for Vic Hanson's car lot. Does anyone out there remember the name of it? A little further south was the Kroger grocery store. Any help would be appreciated. Thanks.
11/13/06
Another band that performed frequently around southern Wisconsin and northern Illinois (and another personal favorite of mine) was "The Heard." Originally from Peoria , Illinois, they were based out of Janesville in the mid-sixties, renting a house appropriately referred to as "Heard Manor." Band members included Jim Croegaert (keyboards), Paul "Bird" Burson (guitar), Bill Sutton (bass), and Ron "Drummer" Bednar (drums). Like many bands at that time, The Heard covered popular songs heard on the radio, but also did some of their own material.
Jim Croegaert says the band was heavily influenced by the Beatles, whose Sgt. Pepper album he remembers hearing for the first time at Heard Manor, one Standell amp and a double 15″ JBL speaker bottom for each channel. They also played a lot of Stones, Byrds, etc.
A talented songwriter whose influences included Bob Dylan and Ray Charles, Croegaert wrote two songs, "Take It On Home" and "Stop It Girl," that the band recorded on a local label (Feature). In 1967 the record was released on the Phillips label. When that happened, Phillips added "Wylde" in front of the band's name to make them "The Wylde Heard." Both songs can be found on a compilation CD, "Psychedelic Crown Jewels – Vol. 3."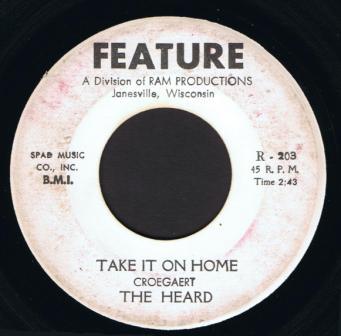 (Label courtesy of Mike Matheson)
About The Heard's music, Jim says "I do think we tried to press beyond the 'pop' scene of that time and to do songs with more content than many bands were doing. And we did Beatles songs pretty well, with someone (Bill) who could reach the 'McCartney' notes, not something every band could say. And we relished figuring out the complex, unpredictable Beatles chord patterns, which Bill was especially good at. For myself as a songwriter, I feel blessed for learning from the influences we had in those days."
Upon the breakup of The Heard, Jim and Bill joined Russ Dashiell (guitar) and Rick Jaeger (drums) of the Beau Gentry to form a short-lived band called "Masque." (See The Beau Gentry blog entry below…) After that, Jim eventually joined a group of musicians who, like himself, wanted to perform original music. The band became known as "Hope," a contemporary Christian rock group based in La Crosse, WI.
Today, Jim Croegaert is still writing songs and performing in Evanston, IL. You can read more about him and buy his music by visiting RoughStonesMusic.com. I'm very grateful to have heard from Jim and his wife, Janalee, who shared this Wylde Heard poster with me. Thank you both.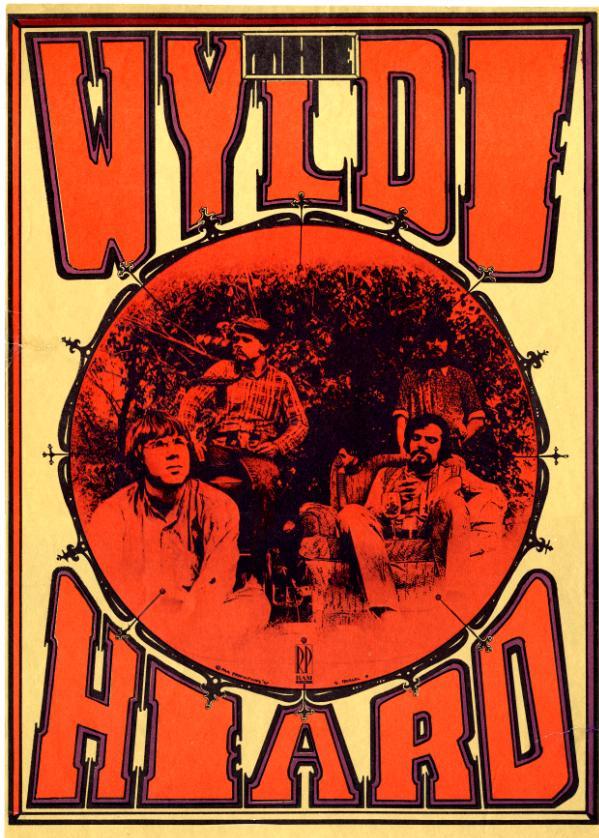 Left-to-right: Paul Burson, Bill Sutton, Jim Croegaert (in chair), Ron Bednar
(Barely visible is Tyrone, Rick Jaeger's pet boa constrictor, draped over Bill's shoulder)
(Poster courtesy of Jim & Janalee Croegaert)
11/01/06
John "Moon" Martin, composer of Bad Case of Lovin' You (Doctor, Doctor), a big 80's hit for Robert Palmer, must have played the Pop House in the mid-sixties with his band from Oklahoma named The Disciples. They were booked there by Wisconsin agent Ken Adamany, whose name is printed on the photo. It couldn't have been too much longer before the band moved to California, changed their name to Southwind and recorded their first album of country-rock tunes on the Venture label. Moon Martin's story is well-documented on the Web (http://moonmartin.com/), but this photo includes a couple of band members not often mentioned elsewhere. Deciphering the signatures, standing from left to right are: Milton Sanders, Jim Dooley, John "Moon" Martin, and Jim Pulte. Kneeling to the right is: Jim Walker. If you remember The Disciples or their Pop House appearance, leave a comment or send me an email.
**UPDATE** Please see the comments to this blog entry for further information about Southwind, formerly known as The Disciples.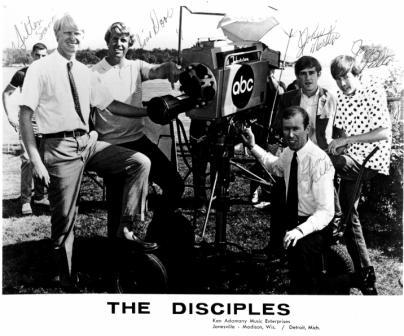 (Photo courtesy of Stankewitz family)
Bonus… Here's a label scan from the Southwind 45 recording of Get On Board the Train…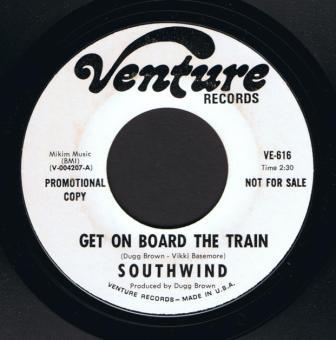 (Label courtesy of Mike Matheson)