10/18/07
Are you ready to test your memory… or check with someone else who still has theirs?
Here's another installment of "Whoozdis?" where the object is to help identify people or events in some photos. If you know the answers, post a comment. Here we go. Just click on the graphic…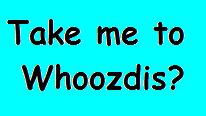 10/09/07
OK… a picture… finally! Here's a Chili Queen group image with a BCH Mardis Gras "Queen" and a couple of Grillmen thrown in for good measure. Have some fun by identifying each one by number. Match some of them up with the names below. Right click on the image, save it to a file, and enlarge it in your viewer for better detail.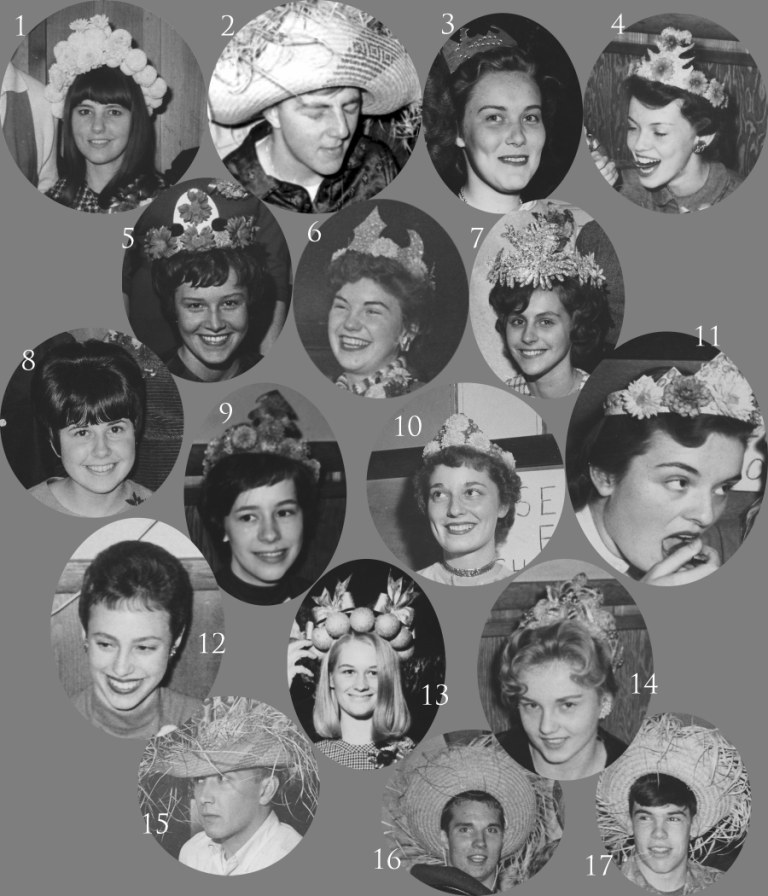 Chili Queen Trivia:
- Was the first Chili Queen crowned in 1953? (My understanding from an unknown source is that it started in 1949.)
- Were the first few queens Beloit college students? (Possibly, but probably not.) If so, until when?
- Were subsequent Chili Queens all high school senior girls? (Yes, elected in November/December of senior year.)
- Mimi, the 1955 queen, had her picture published on the front page of the Milwaukee Journal. Anyone know the exact date of that newspaper issue, probably January 1956? (I'll be checking on some microfilm for this.)
- Here's a list of Chili Queen names I've been able to put together. What are the missing names and are there any corrections? (Can anyone confirm the first one on this list?)
1953 Beverly Ann Tuttle - "Toots" ('54 BMHS)
1954 Virginia Lois Jacobson - "Ginny" ('55 BMHS)
1955 Mary Alice Winger - "Mimi" ('56 BMHS)
1956 Chrystal Rowene Pearson ('57 BMHS)
1957 Carol Jean Maryott ('58 BMHS)
1958 Karen Durben ('59 BCH)
1959 Christine Laage ('61 BMHS)
1960 Mary Lynn Poole ('61 BMHS)
1961 Sally Bua ('61 BMHS)
1962 Barb Conry ('63 BCH)
1963 Maureen Griffin ('64 BCH)
1964 Patti Choudoir ('65 BCH)
1965 Jenny Pargmann ('66 BMHS)
1966 Nancy Belvedere ('67 BCH)
1967 Linda Dale ('68 BMHS)
- Were there any more after this? (See comment from Bonnie Cheadle below. Also, hamburger-eating competitions started around this time, 1966-67.)
10/01/07
I need your help identifying this event.
I've discovered a few photos coming from different sources, but that are all of the same event. HOWEVER, THE EVENT WAS NOT HELD AT THE POP HOUSE. I've determined that the event took place at the Beloit Moose Club, probably in the mid-to-late 1950's.
The event involved the crowning of a young woman as shown in this photo.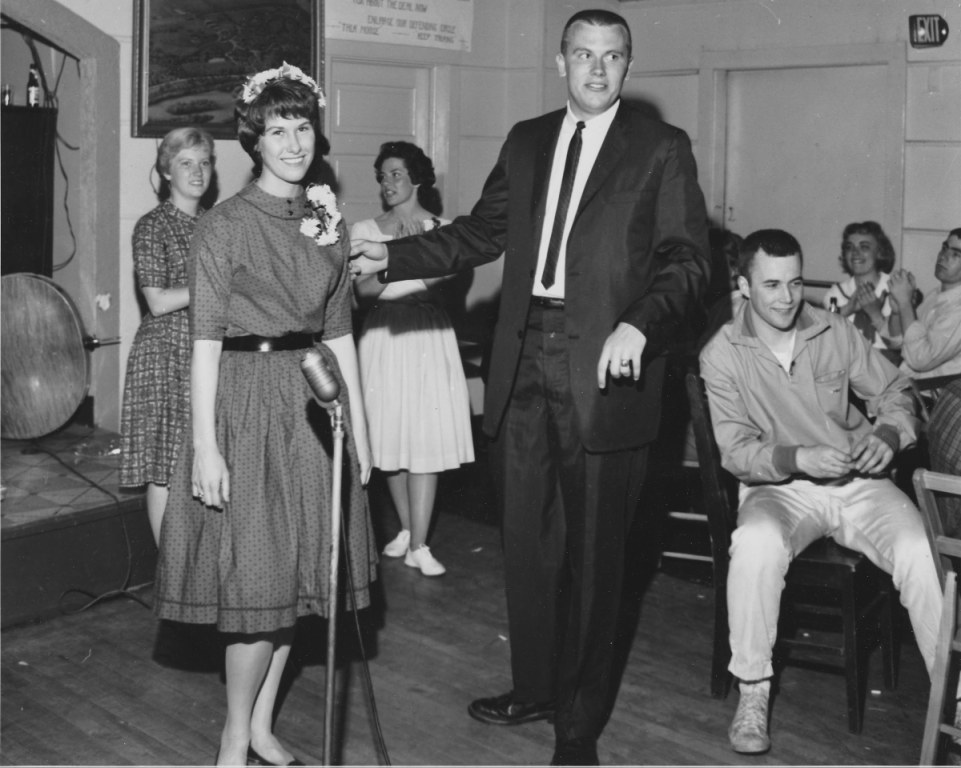 (Pop House Collection Photograph by Edwin Sweet)
A swing band, as seen in this photo, was playing on the Moose Club stage which was set back in an alcove under the moose head mount which can be partially seen.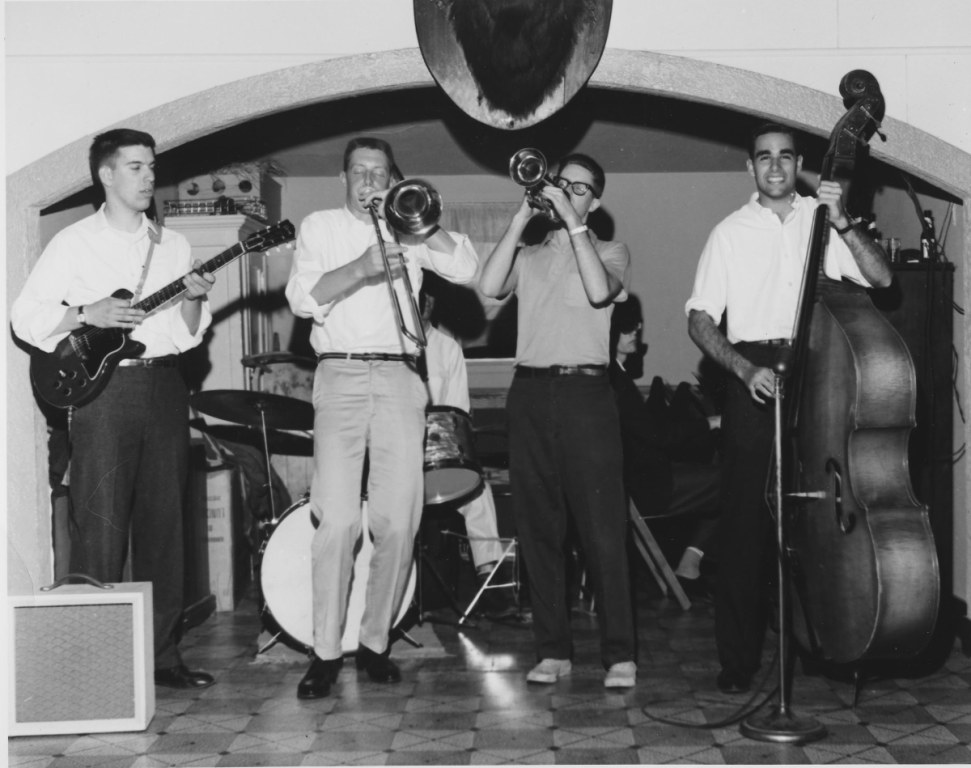 (Pop House Collection Photograph by Edwin Sweet)
There are other photos, all taken by photographer Edwin Sweet (as stamped on the back), that show both George and Vince as well as a number of other people (possibly Beloit College students) at this event. Alcohol was served as some photos show beer bottles and highball glasses on tables. Can you help me identify what the event is and what the Pop House connection is? Is it a Beloit College v. Pop House "post-Spring Olympics" event? Would there have been a "Queen" crowned? Or were some events held at the Moose club while Pop House remodeling was underway? These are all just guesses. If you know, please leave a comment. Thanks.
Comments Off