10/09/06
Followed up on a sixties Beloit band named The Chevelles (not the current Australian power pop group) with band leader Tom Chekouras (guitar). Tom provided me with the line-up changes that occured throughout the history of the group. If anyone has a copy of the 45rpm single "Debbie I Love You b/w You're So Wise" recorded by The Chevelles on the Leaf label, please let me know. Here are the musicians who worked in The Chevelles over a three-year period…
Drums – Jim Hills > Ray Mckinzie > Bill Meeker
Organ – Dave Hernandez > Kevin Schmale > Chuck Amato
Lead Guitar – Bob Gosa > Tom Chekouras
Rhythm Guitar - Don Shepard > Tom Chekouras > no one
Bass Guitar – Don Stackhouse > Dan Wassman > Dave Hernandez > Don Hess
Lead Vocal – Dave Hernandez > Dave and Tom > Keith McGuire and Tom
(The final lineup of The Chevelles included Tom Chekouras, Chuck Amato, Bill Meeker, Don Hess, and Keith McGuire. This may have been the line-up that played at the Pop House when I saw them there.)
If any of you are reading this, please drop me a line. Bill Meeker (drums) went on to work with Ben Sidran and with Elvin Bishop. He also appeared on American Bandstand in 1970 with Norman Greenbaum (and Russ Dashiell and Doug Killmer) in Greenbaum's touring band.
As for Tom… after relocating to the Milwaukee area he hooked up with a band in 1973 and transitioned 100% over to keyboards. He's been a keyboardist ever since, playing a monster syntesizer rig. He currently plays in a project band (i.e. no outside gigs), getting together about once a month to play power rock material such as Kansas, Deep Purple, Styx, etc. just for the fun of it. It was great to hear from Tom.
**UPDATE** Got a chance to spend a day with Dave Hernandez and his brother Jim, both fine Beloit musicians with a long history of interesting bands. So, I'll be writing more about them in a later blog item. In the meantime, here is a photo of the Chevelles that Dave provided…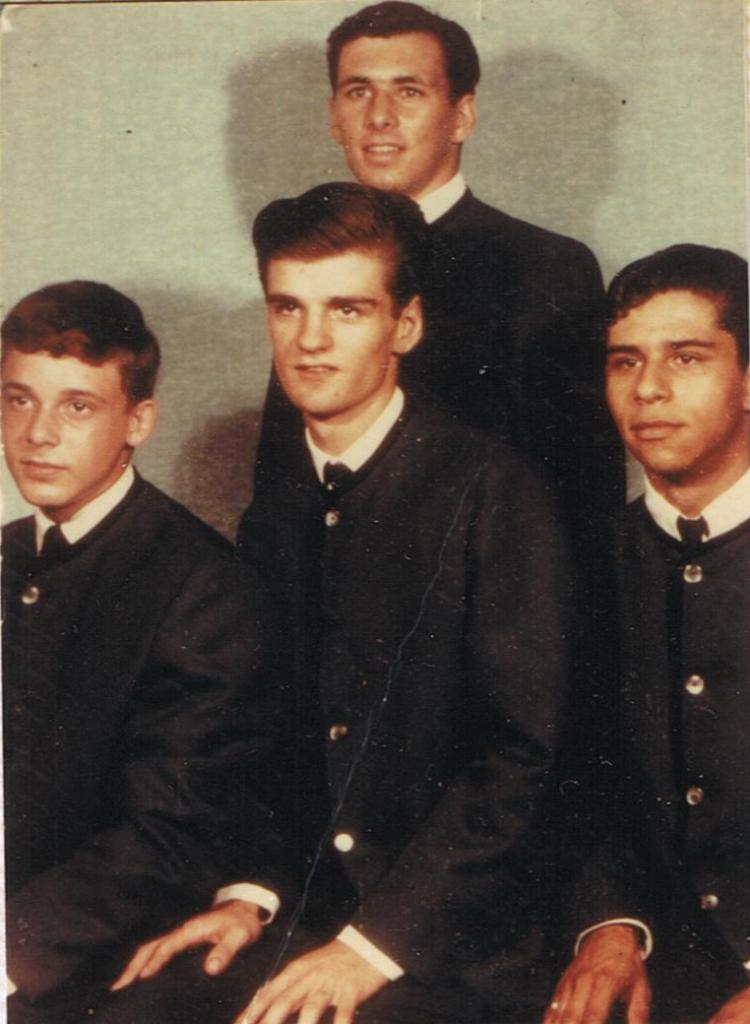 Seated left-to-right: Kevin Schmale (organ), Tom Chekouras (guitar), Dave Hernandez (bass)
Standing: Jim Hills (drums)
(Photo courtesy of Dave Hernandez)
Had the opportunity to interview Dana Buck (bass) and Brad Palmer (guitar/kybds) of The Esquires. Dana and Brad fondly remembered those days of performing at the Pop House, noting that George always offered them burgers and malts after the gigs. Dana still resides in Illinois and works in a Rockford band called The Sensations when he's not busy as account manager for Crown USA. Brad works in the health field as an RN in Wisconsin and also performs with a band called Abby Normal in Portage. Dana's twin brother Dave (drums) lives in Canada. The whereabouts of Tom Harrison (guitar) is unknown. I'll be featuring more on The Esquires in my book.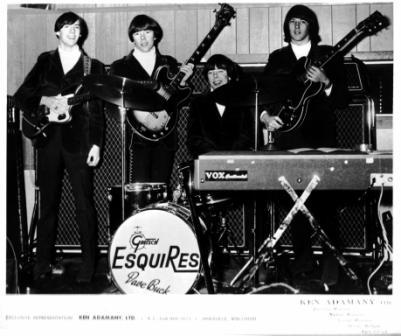 The Esquires: Tom Harrison, Dana Buck, Dave Buck, Brad Palmer
(Photo courtesy of Dana Buck)