03/16/07
Filed under:
General
Posted by: Joe @ 2:33 pm
The Pop House started out as a social gathering spot for teenagers back in 1946. It was mainly a hangout for Beloit College students until the late 1950's and into the 1960's when it became a haven for high school students. You had to be a sophomore to get in. To keep an orderly establishment, George issued membership cards and, for a time, keys. When you received your Pop House membership card and key, you pretty much entered utopia.
The guys who worked behind the grill carried special Grillmen membership cards. Thanks to Jim Wilson who sent me an image of his Grillmen card. Jim also sent an image of a blank "Collegiate" Pop House membership card. If you still have a regular Pop House membership card, I'd like to get an image of it. Let me know.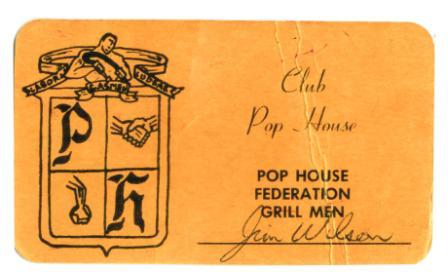 (Image courtesy of Jim Wilson)
Until live music began in the late fifties, sports, record jams, and special events dominated the Pop House social scene. There was the annual Chili Festival involving a cook-off and culminating in a coronation of the Chili Queen and her Court. George enjoyed sponsoring quirky ceremonial award presentations almost as much the competitions themselves. If you know if this is a Chili Queen and Court, tell me about it… and identlfy these lovely ladies.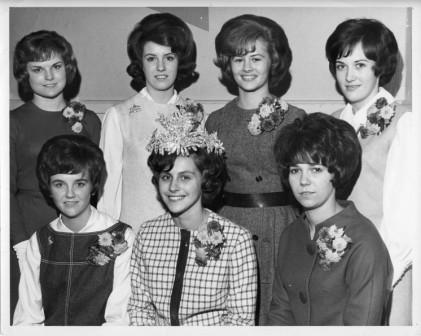 (Stankewitz collection)
There was also a hamburger eating contest. Here's a picture taken just before the competition started. Thanks to Kevin Schmale for identifying the guys in the photo. He believes Floyd "Chico" Wells was the ultimate winner. By the way… Kevin told me about the t-shirt he's wearing with TOTTS printed on the front. There should be at least ten of you who know what that stands for… :)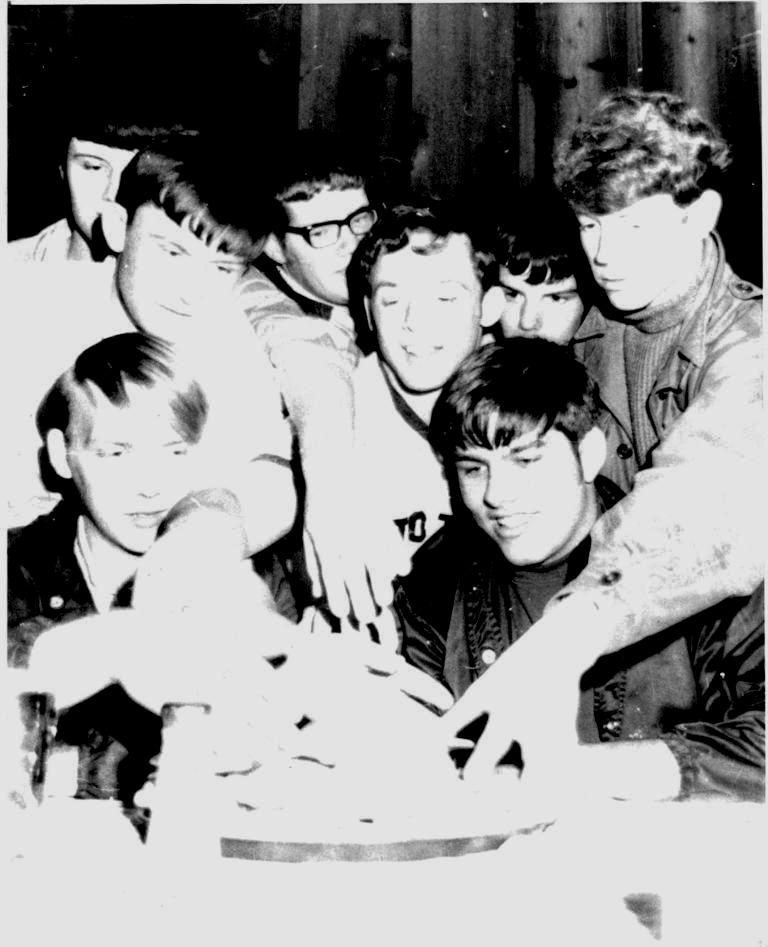 Front: Dwight Hall, Floyd "Chico" Wells
Middle: Casey Singles, Kevin Schmale, Tim Miller
Back: ??, John Hildebrandt, Dan Taylor
(Stankewitz collection)
The Pop House sponsored a number of teams and sporting events. George's brother Vince, who eventually had Vince's Sport Shop, was a great athelete himself. In high school, Vince excelled in basketball and golf. In May 1946, Beloit High School's golf team preserved its Big Eight Conference championship with Vince having the overall best score of 76. The following year Beloit High's basketball team, on their way to the state tournament, beat Madison East 45-38 with Vince leading the scoring with 14 points.
Just a couple years later in 1949 while playing for the Pop House team, Vince led scoring in the citywide recreational basketball league with 32 points and held the league lead with a total of 80 points. The next closest point total for second place was 51, held by Bill Merkle playing for the Snack Shop.
Pop House basketball, and softball teams competed in recreational leagues throughout the years it was open. Jim Wilson told me about a Pop House summer league team called the Pop Tops. If you know about the Pop Tops, please share your memories. Don't know if this 1960s-era picture is of the Pop Tops, but at least one person in it is holding a bat and glove. I think I even recognize a few of the faces… in the front row of bikes furthest from the camera, it looks like Bruce "Rudy" Rudolph and Chris Martin. In the second row of bikes, with his head (partially obscured by a mirror) turned toward the riders behind him and wearing a Beloit Catholic Basketball t-shirt may be Leon Scott. Is that Pat Monahan and John Zabel toward the back just in front of the railroad signal post? Do you recognize anyone else?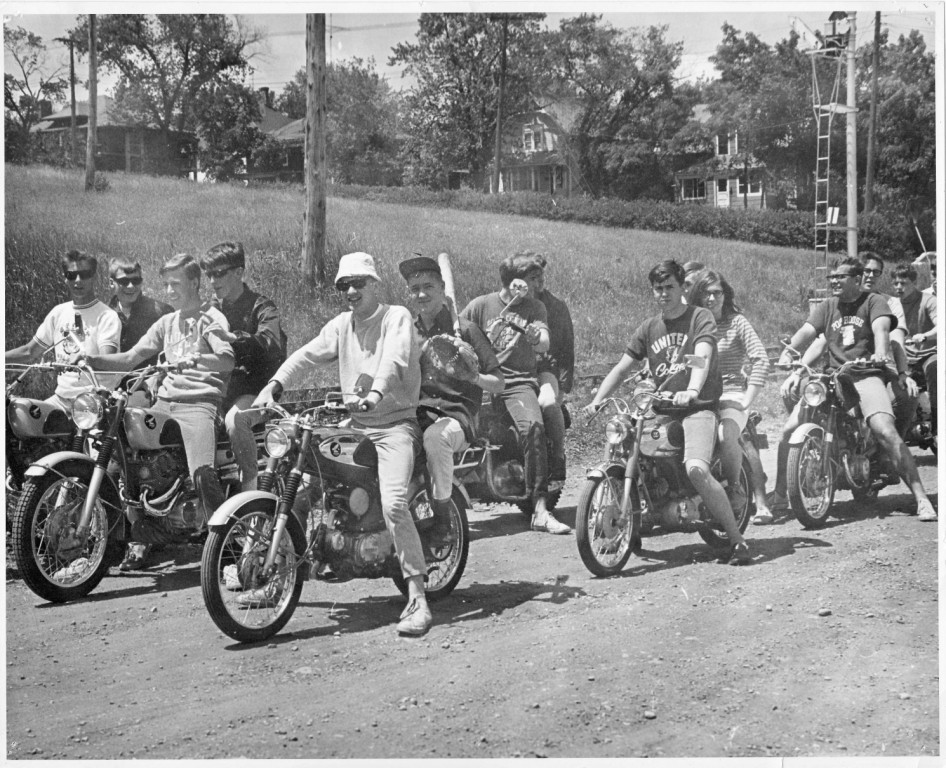 (Stankewitz collection)
George organized the Pop House Collegiate Olympics that pitted high school and college students against one another in competitions such as softball, basketball, golf, tennis, canoe racing, and bike racing. The Pop House sponsored city leagues as well. In March 1957 the Pop House basketball squad were the National League champs in the citywide basketball championship, only to lose to the Iron Works team (the Basket Tippers) who won title for the American League.
The annual Turkey Bowl touch football game, held on Thanksgiving morning, is a tradition that is still carried on to this day. In 2006, the 59th annual Turkey Bowl competition, this time between The Mouse and Hog Cabin, was held at the Beloit Boys and Girls Club Field. Prior to the game a breakfast was held where the tradition of crowning a Turkey Bowl Queen and Court took place. Then there was short parade before the game where Vince Stankewitz served as game commissioner.
Three generations of Beloiters continue to remember the good times they shared at this place called The Pop House. Hopefully this blog and subsequent book will help keep those memories alive.