09/25/06
I've had the opportunity to correspond with guitarist Russell Dashiell, formerly of the Beau Gentry who played often at the Pop House. Russ is a great guy who shared his memories of that time with me. He said that promoter Ken Adamany booked them for a Wisconsin tour during the summer of 1966, so they drove up from Florida where they originally had formed. Russ says "One of [the Beau Gentry's] very first gigs was at The Pop House in Beloit, Wisconsin and the place was packed. The band really enjoyed the gig, appreciating the supportive audience, and within those first few weeks in Wisconsin they realized they had found an excellent market for their music." The Beau Gentry would return to the Pop House numerous times over the next couple of years. They built a strong following in Wisconsin and Illinois. After the Beau Gentry, Russ and drummer Rick Jaeger regrouped with two members of the recently dissolved band, The Heard, and called their new group Masque. I remember first seeing Masque perform at The Meadow in Janesville. They also played at the Pop House. By the end of 1968, Russ continued his successful musical career in California, writng original music and recording with a band named Crowfoot. Upon the dissolution of that band, Russ went into the studio to record for Norman Greenbaum's "Spirit in the Sky," which sold over a million copies. I hope to include more about about the Beau Gentry in my book. Today, Russ continues to write and record original music in California and Hawaii. He considers his current work to be his most important… the development of an animated film feature called "Foreverland Forest." You can check out his original music on his web site: http://spiritguitar.com/ . Thanks, Russ.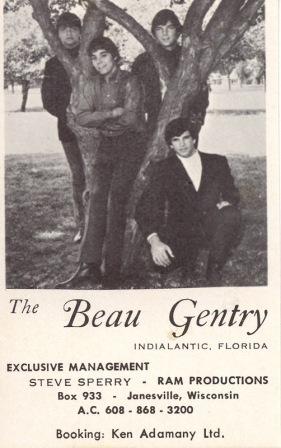 Russ Dashiell is in the lower right. Standing L-to-R are: Rick Jaeger, Doug 'Chico' Killmer & Lance Massey.
(Courtesy of Russell Dashiell.)
09/07/06
Hey everyone. It's good to hear from you through your comments about the Pop House. Make sure you check here often to see any replies. Oh, and please bookmark http://pophouse.accardiweb.com . Thanks.
Joe
09/06/06
In the mid to late sixties, there were a number of other places around the Stateline Area where high school age kids could go to hear their favorite bands. The E.J. Dalton Youth Center in Rockton and the South Beloit American Legion Hall come to mind. A friend told me about a place in Belvidere called the Rumpus Room. There were also "Record Bandstand" dances at the Rock County and Walworth County fairgrounds and, one of my all-time favorites, The Meadow (formerly Ace Hi Roller Rink) in Janesville. The grand opening of The Meadow ("Wisconsin's finest psychedelic environment") was on December 29, 1967 and featured The Mauds from Chicago. Great light shows were provided by Flower Power & Light Company. The Robbs, the Cryan' Shames (see next blog item), the Heard, and the Beau Gentry played there as well. If anyone has more information about any of those venues and the bands that performed at them, please let me know. Peace.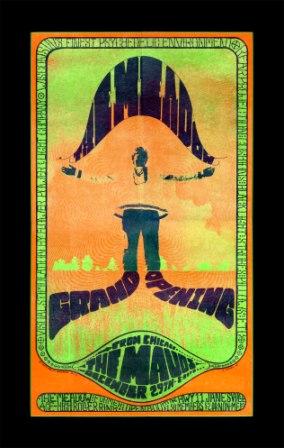 Poster by Fugate-Marling Enterprises, Inc. 1967
(Courtesy of Jimy Rogers of The Mauds)
Comments Off
09/05/06
Did you see the Cryan' Shames play at the Pop House in 1966? Click here for a trip back to that performance and let me know if you recognize yourself or someone else on the dance floor.
Joe
Summer is drawing to a close and I'm back at my desk. Tried to keep up with comments received over the summer and now am attempting to contact past friends, acquaintances, and fellow musicians to talk more about their Pop House experiences. While I have many photographs of artists who performed at the Pop House, I'm missing some important Midwest bands from the mid to late sixties… the Beau Gentry, the Heard, the Paegans, the Grim Reapers, etc. If you have any photographs of these and other bands from that time period, please contact me. One of the sad things discovered in my research is that some of my favorite artists are now gone. For instance, from the Beau Gentry, Doug Killmer (bass) and Rick Jaeger (drums) have passed on, Rick in 2000 and Doug in 2005. Both had great musical careers playing with the likes of Norman Greenbaum (Spirit in the Sky) and Dave Mason (Headkeeper), among others. I recall one night when watching the Beau Gentry play at the Pop House. They were doing that old favorite, Louie Louie, when Doug held out his microphone to me to sing a verse. I did the best I could trying to remember some lyrics… probably not the real ones. Another member of the Beau Gentry who played with Norman Greenbaum (and whose fuzzy guitar you hear on Spirit in the Sky), Russ Dashiell is still making music. His web site is: www.spiritguitar.com . Guitarist Lance Massey lives in the Beloit-Janesville area and still performs occasionally.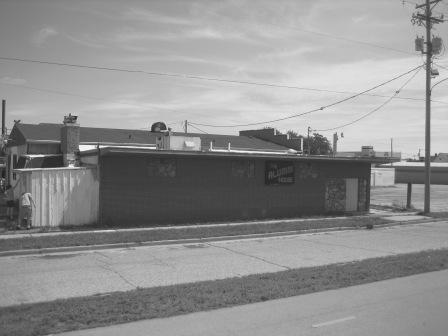 (On a recent trip to Beloit, I photographed the Pop House, now the Alumni House, on the corner of Portland and Fifth)