05/30/08
In February 2007 I posted an item on bands featuring female vocalists who might have performed at the Pop House. (See: http://pophouse.accardiweb.com/?m=200702). A few days ago I received an email from Steve Seymour in Escanaba, Michigan who writes a weekly column about music in the Upper Peninsula. (See: http://rocknrollgraffiti.com/). Steve had just met with Tom Lucas, formerly of the Ravelles from Iron Mountain. The band toured the Midwest and also had been the opening act for the Cryan' Shames and the Buckinghams. If you recall, I had spoken with John Richtig and Carmella Altobelli of the Ravelles and asked if they remembered playing at the Pop House. Neither could remember. Lucas, however, had a copy of Richtig's journal that he kept about the band and its accomplishments. It was noted in the journal that the Ravelles performed at the Pop House on Oct. 12, 1968. The dance lasted from 8:30 to 12:30. They were paid $300. Richtig said about 250 kids arrived after a football game. "Kind of a long trip, but it went pretty well anyway," Richtig wrote in his journal about the appearance. So there you have it. Too late for the book, but an interesting anecdote for the blog. Thanks to Steve for sharing this story.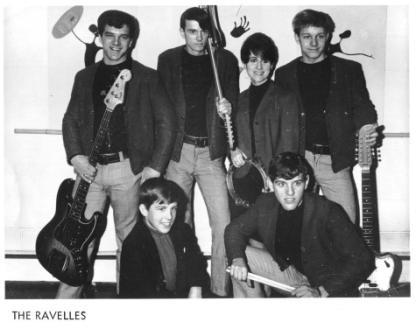 Back: Ray Brouillire (bs), Tom Lucas (gtr), Carmella Altobelli (voc), John Richtig (gtr)
Front: Brian Alquist (kb), Rand Alquist (dr)
(Photo courtesy of the Pop House collection)
Another band featuring a female vocalist was Marcia and the Lynchmen from Minnesota. Marcia Wilcox, who joined the group as lead vocalist when she was only 16, was also among the first female singers in a Midwestern rock band. The band toured the Midwest for a number of years, playing teen clubs, ballrooms, and nightclubs. They also had been an opening act for the Buckinghams and cut one single, "Won't Turn Back." The exact date of their appearance at the Pop House was unknown, but a number of alumni remembered them. Marcia and the Lynchmen are one of the bands featured in the book.
If you remember either of these Midwestern bands, you can share your memories on the blog. Thanks.
05/28/08
Hi everybody. Thanks for all your interest and support for Beloit's Club Pop House. I was asked by a very nice newspaper reporter if I could provide names of former Pop House members who would be willing to share some of their memories for a forthcoming article. If you're willing to spend a few minutes sharing some Pop House memories, please let me know by Saturday, May 31 either by email or by leaving a comment. (I won't post the comment… I'll contact you privately.) Thanks! Joe
05/13/08
Well, this is the week for Beloit's Club Pop House to be published. Among other places, it's available locally at Turtle Creek Books (http://beloit.bkstore.com/). I'll be there on Saturday, June 7 beginning at 10:00 a.m. to sign your copy. The Pop House reunion party will be later that evening at Suds O'Hanahan's Irish Pub, beginning at 8:00 p.m. Hope to see you all there.
I received an email from Jerry Wood (BMHS 1955). He was interested in knowing who were the members of the 1957 Chili Queen Court. So, here is a photo that didn't make it into the book (though there are a couple of others in the book that feature Chili Queen Carol Maryott, seated in the booth, second from right in this photo). You can help Jerry out by identifying these folks, including the guys in the sombreros…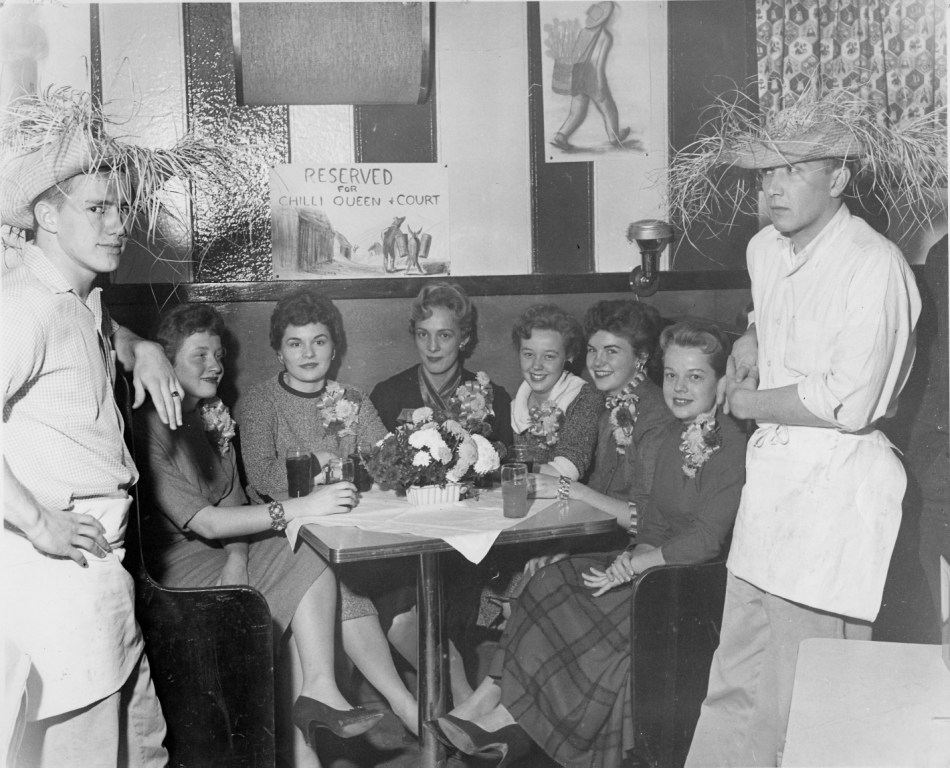 (Courtesy of the Pop House Collection)
Also, here's a picture of Beloit's own Mic's Masters after they became the Leopardmen in 1964. Looks like there was at least one personnel addition. Are these five guys Roger and Robert Mickey (at each end), Chuck Voss, Steve Leitz, and Jim Rogers? Can anyone confirm this? Bob… or Pam Barrs… are you still out there?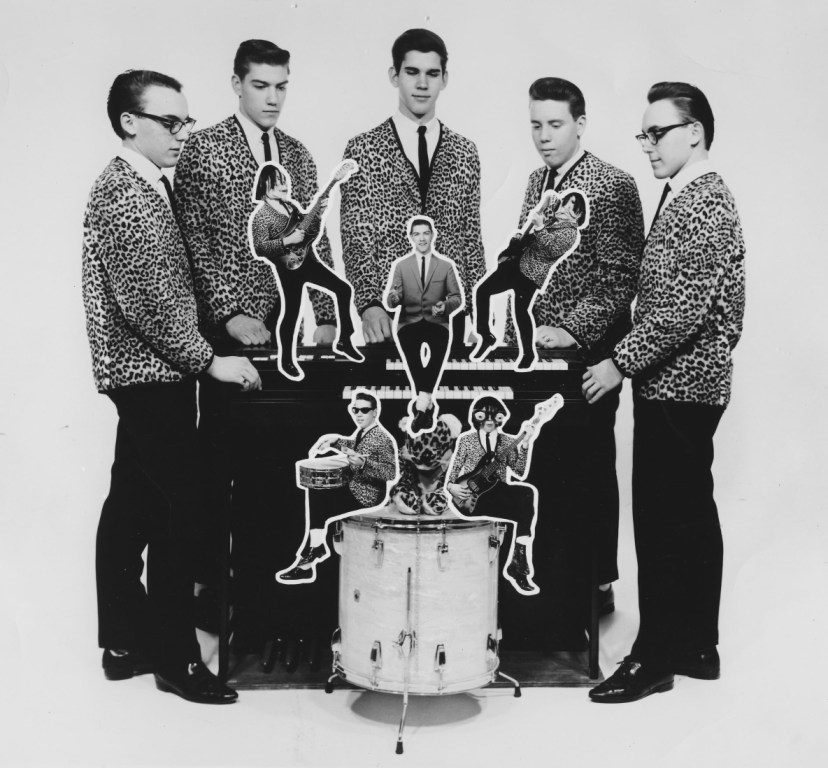 (Courtesy of the Pop House Collection)
05/06/08
I was contacted by someone interested in one of the "Top 50 Events to Remember" in Wisconsin sports history. It was the 1969 state high school basketball tournament. The specific event was "the shot heard around Wisconsin." At the final buzzer, Beloit Purple Knight Lamont Weaver, made a 55-foot shot that banked in to tie the game. Beloit won the game over Neenah in double overtime and took home the State Championship. The date was Saturday, March 22, 1969. The question: Was there a dance at the Pop House that night… record jam or band (and who was the band)… or was the night reserved for watching the game? Was there a TV on? If anyone has any memories of what was happening at the Pop House that night, please leave a comment. Thanks.