05/23/07
I won't forget the night Del Shannon performed at the Pop House. It was the summer of 1966 — holy cow, that's more than 40 years ago! It was before the stage in the dance hall was moved to the south end. The place was packed and I was standing no more than a few feet from Del. I won't forget his backup band either, the Shane Gang led by Shane Todd. Their costumes were striped convict suits… like a "chain gang"… Shane Gang?… you get the connection. The Shane Gang were from Wisconsin and backed Del during his 1966 and 1967 midwest summer tours. Booking agent Ken Adamany remembers being in the audience that night, saying Del had spent the night before the show playing pool at Ken's parents' house. Del rode up to the Pop House gig in a big red Cadillac accompanied by his driver whose name was Jimmy.
Jon St. John, drummer for the Shane Gang, recalls that guitarist Jerry Raimer was in need of some dental work on the day of the Pop House gig. During the afternoon sound check, Jerry's wife yelled out, "Get some teeth, Jerry!" It became an inside joke with Del and the band for the rest of the evening.
Thanks to Jon (St. John Artists - Neenah, WI) for sharing that story and for sending me a couple of photos. This one is of Del performing with the Shane Gang that summer, though not at the Pop House.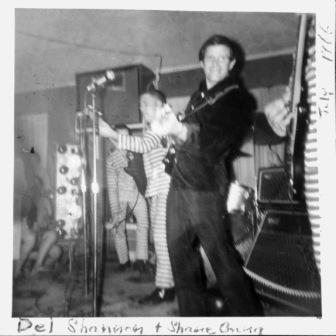 (Courtesy of Jon St. John)

Comments Off
05/21/07
I never owned one myself… not sure why not. I think they came in a couple of color choices. I thought I remembered seeing a red one in addition to this blue model. I'm talking about the famous Pop House sweat shirt. This one is the short-sleeved model. A big thanks goes out to Dee Dee Vince for providing this piece of Pop House memorabilia and to Dave Hernandez for photographing it. Anyone else out there still have their sweat shirt, jacket, or t-shirt from the Pop House?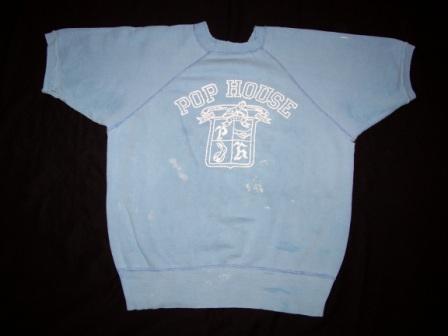 (Sweat shirt courtesy of Dee Dee Vince. Images by Dave Hz.)
Here's a closer look at the Pop House logo…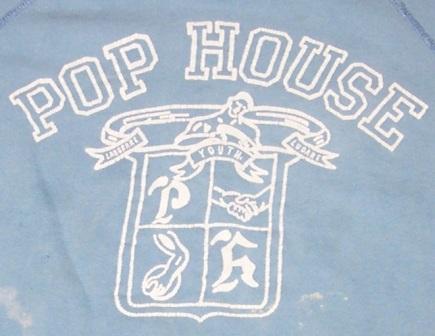 LABORARE (To work) - LUDERE (To play)
(Those two years of high school Latin really paid off.)
05/08/07
Hope you all are ready for another installment of WHOOZDIS?
With major league baseball in full swing (no pun intended), I thought this would make for some nostalgic fun during a rain delay… or just as a distraction from any real work. The photos included here are of what appear to be Pop House softball teams from around 1968-1972. There are fourteen teams with names like: WAFS, Boilermakers, Neophytes, Pack, Grillmen, Rookies, and the infamous TOTTS. You might have played for one of the teams or been in the bleachers cheering. Try to identify the team names and the players. I recognized a few people, but not very many.
Let's start out with this picture outside the Pop House of someone driving a big ol' convertible with a mock coffin sticking out of it. Who is this guy and what the heck is going on?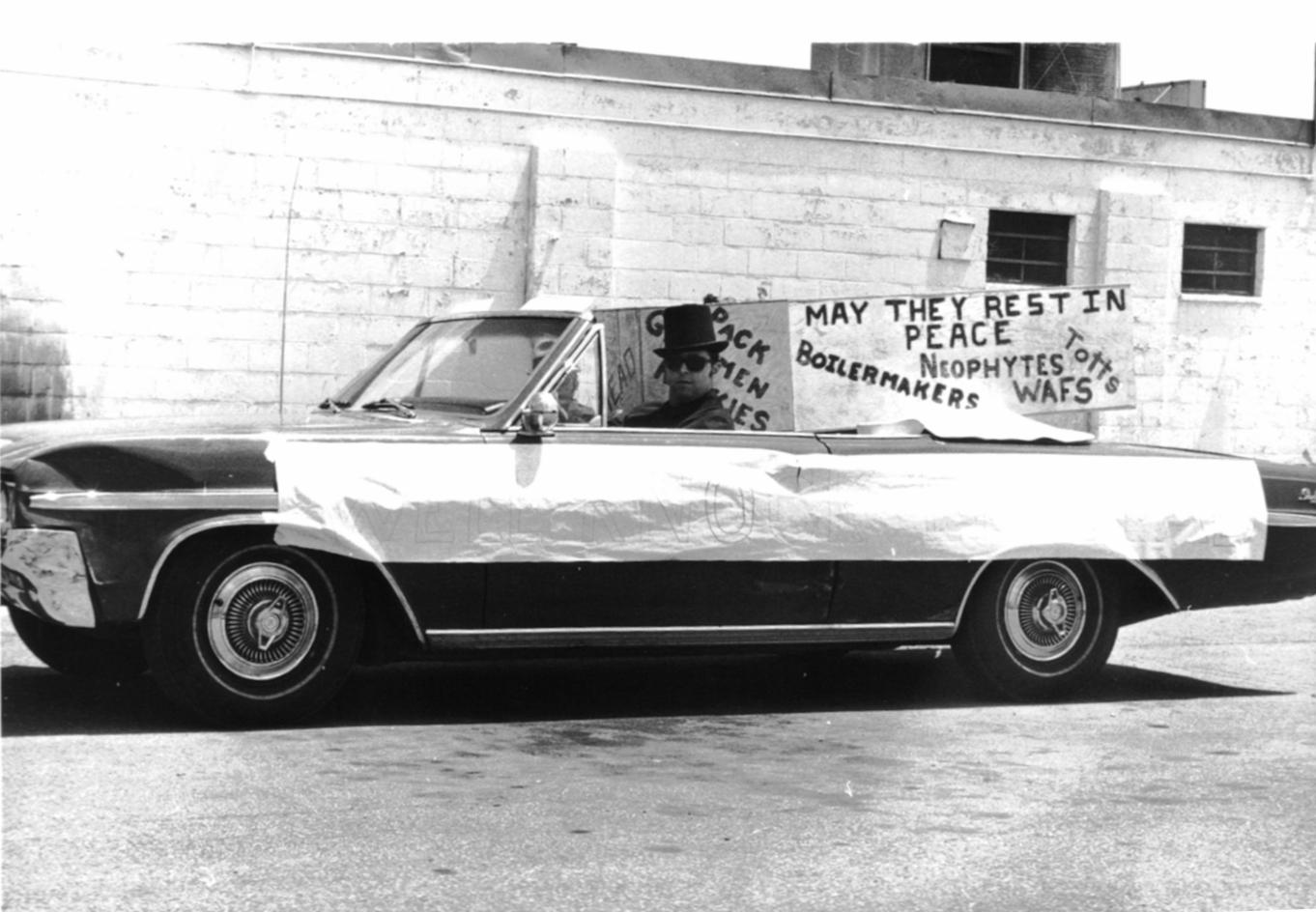 (Photo courtesy of Ida & Richard Lenz)
Click on the graphic below to get to the Pop House Softball Team Photo Gallery. Thanks to Ida and Richard Lenz for providing these and many other photos.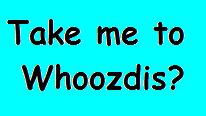 05/02/07
Over the past few weeks I've had the pleasure of meeting and talking with many individuals who have helped me locate photos, stories and memorabilia about the Club Pop House. I don't want to risk leaving anyone out by trying to name each of you… yet… you know who you are. I do thank all of you for your help thus far as I go forward with this project. Thank you!
Within the next week I hope to post another "Whoozdis?" photo gallery of Pop House events and people. I also hope to clear up any inaccuracies so far.
Thanks to Bob Harrer for providing me with a couple of photos, a few stories, and some very clean membership cards that barely made it through the washing machine…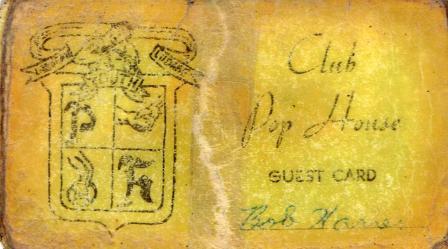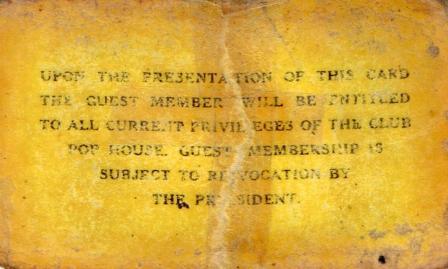 (Slightly laundered membership card courtesy of Bob Harrer)