11/13/06
Filed under:
General
Posted by: Joe @ 4:12 pm
Another band that performed frequently around southern Wisconsin and northern Illinois (and another personal favorite of mine) was "The Heard." Originally from Peoria , Illinois, they were based out of Janesville in the mid-sixties, renting a house appropriately referred to as "Heard Manor." Band members included Jim Croegaert (keyboards), Paul "Bird" Burson (guitar), Bill Sutton (bass), and Ron "Drummer" Bednar (drums). Like many bands at that time, The Heard covered popular songs heard on the radio, but also did some of their own material.
Jim Croegaert says the band was heavily influenced by the Beatles, whose Sgt. Pepper album he remembers hearing for the first time at Heard Manor, one Standell amp and a double 15″ JBL speaker bottom for each channel. They also played a lot of Stones, Byrds, etc.
A talented songwriter whose influences included Bob Dylan and Ray Charles, Croegaert wrote two songs, "Take It On Home" and "Stop It Girl," that the band recorded on a local label (Feature). In 1967 the record was released on the Phillips label. When that happened, Phillips added "Wylde" in front of the band's name to make them "The Wylde Heard." Both songs can be found on a compilation CD, "Psychedelic Crown Jewels – Vol. 3."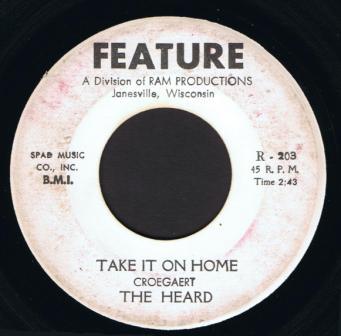 (Label courtesy of Mike Matheson)
About The Heard's music, Jim says "I do think we tried to press beyond the 'pop' scene of that time and to do songs with more content than many bands were doing. And we did Beatles songs pretty well, with someone (Bill) who could reach the 'McCartney' notes, not something every band could say. And we relished figuring out the complex, unpredictable Beatles chord patterns, which Bill was especially good at. For myself as a songwriter, I feel blessed for learning from the influences we had in those days."
Upon the breakup of The Heard, Jim and Bill joined Russ Dashiell (guitar) and Rick Jaeger (drums) of the Beau Gentry to form a short-lived band called "Masque." (See The Beau Gentry blog entry below…) After that, Jim eventually joined a group of musicians who, like himself, wanted to perform original music. The band became known as "Hope," a contemporary Christian rock group based in La Crosse, WI.
Today, Jim Croegaert is still writing songs and performing in Evanston, IL. You can read more about him and buy his music by visiting RoughStonesMusic.com. I'm very grateful to have heard from Jim and his wife, Janalee, who shared this Wylde Heard poster with me. Thank you both.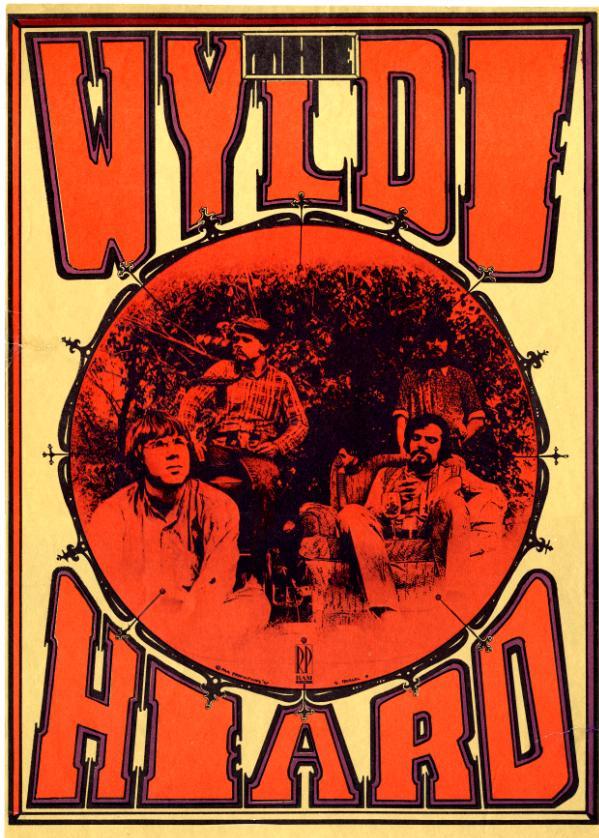 Left-to-right: Paul Burson, Bill Sutton, Jim Croegaert (in chair), Ron Bednar
(Barely visible is Tyrone, Rick Jaeger's pet boa constrictor, draped over Bill's shoulder)
(Poster courtesy of Jim & Janalee Croegaert)