11/01/06
Filed under:
General
Posted by: Joe @ 11:16 am
John "Moon" Martin, composer of Bad Case of Lovin' You (Doctor, Doctor), a big 80's hit for Robert Palmer, must have played the Pop House in the mid-sixties with his band from Oklahoma named The Disciples. They were booked there by Wisconsin agent Ken Adamany, whose name is printed on the photo. It couldn't have been too much longer before the band moved to California, changed their name to Southwind and recorded their first album of country-rock tunes on the Venture label. Moon Martin's story is well-documented on the Web (http://moonmartin.com/), but this photo includes a couple of band members not often mentioned elsewhere. Deciphering the signatures, standing from left to right are: Milton Sanders, Jim Dooley, John "Moon" Martin, and Jim Pulte. Kneeling to the right is: Jim Walker. If you remember The Disciples or their Pop House appearance, leave a comment or send me an email.
**UPDATE** Please see the comments to this blog entry for further information about Southwind, formerly known as The Disciples.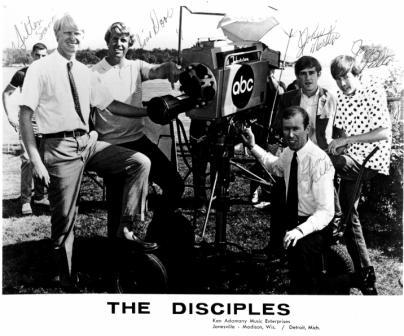 (Photo courtesy of Stankewitz family)
Bonus… Here's a label scan from the Southwind 45 recording of Get On Board the Train…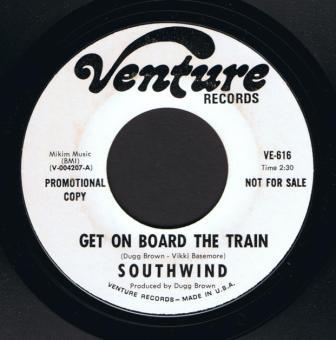 (Label courtesy of Mike Matheson)