05/23/07
Filed under:
General
Posted by: Joe @ 3:38 pm
I won't forget the night Del Shannon performed at the Pop House. It was the summer of 1966 — holy cow, that's more than 40 years ago! It was before the stage in the dance hall was moved to the south end. The place was packed and I was standing no more than a few feet from Del. I won't forget his backup band either, the Shane Gang led by Shane Todd. Their costumes were striped convict suits… like a "chain gang"… Shane Gang?… you get the connection. The Shane Gang were from Wisconsin and backed Del during his 1966 and 1967 midwest summer tours. Booking agent Ken Adamany remembers being in the audience that night, saying Del had spent the night before the show playing pool at Ken's parents' house. Del rode up to the Pop House gig in a big red Cadillac accompanied by his driver whose name was Jimmy.
Jon St. John, drummer for the Shane Gang, recalls that guitarist Jerry Raimer was in need of some dental work on the day of the Pop House gig. During the afternoon sound check, Jerry's wife yelled out, "Get some teeth, Jerry!" It became an inside joke with Del and the band for the rest of the evening.
Thanks to Jon (St. John Artists - Neenah, WI) for sharing that story and for sending me a couple of photos. This one is of Del performing with the Shane Gang that summer, though not at the Pop House.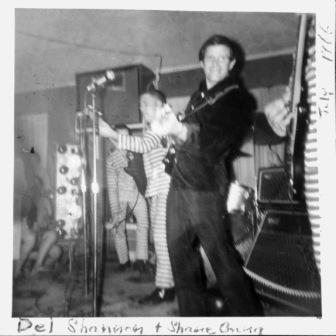 (Courtesy of Jon St. John)