11/26/07
Filed under:
General
Posted by: Joe @ 10:37 am
If you played the October 18th edition of "Whoozdis?" you saw some Beloit Memorial High girls from the class of 1967 around the Pop House Christmas Tree. Here is another group shot around the same tree that features a few 1967 Beloit Catholic High girls from that same year. Thanks to Michele (Chekouras) Pizza for verifying and correcting some names. And thanks to Pat Fitzgerald for identifying Cindy Wieland standing between her and Jane. (BTW… did you girls attend your post-graduation party at the Wieland farm and hear my band, The No Left Turns, play there?)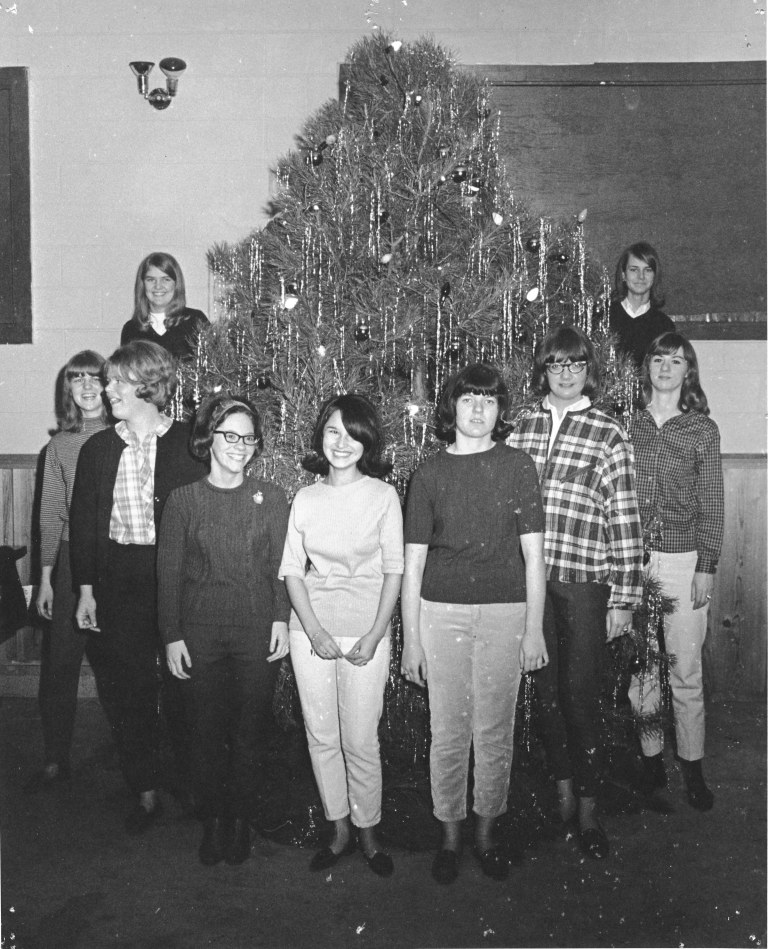 (Pop House Collection)
From left: Jane Aeschlimann, Cindy Wieland, Pat Fitzgerald, Linda Senes, Gloria Sierra, Patty Yanulis, Sue Fogle, Michele Chekouras, Ann George
Also, I promised Mike Hutchinson I'd post a photo of his 1966 Pop House League softball team, "The Humpers." So… here it is. He told me that eight of them still get together at least once each year for a reunion. They met in Florida this November and Jim Buroker was the host. Maybe you guys can help with the name of the first guy in the front row. Who were some of the other teams and players from 1966?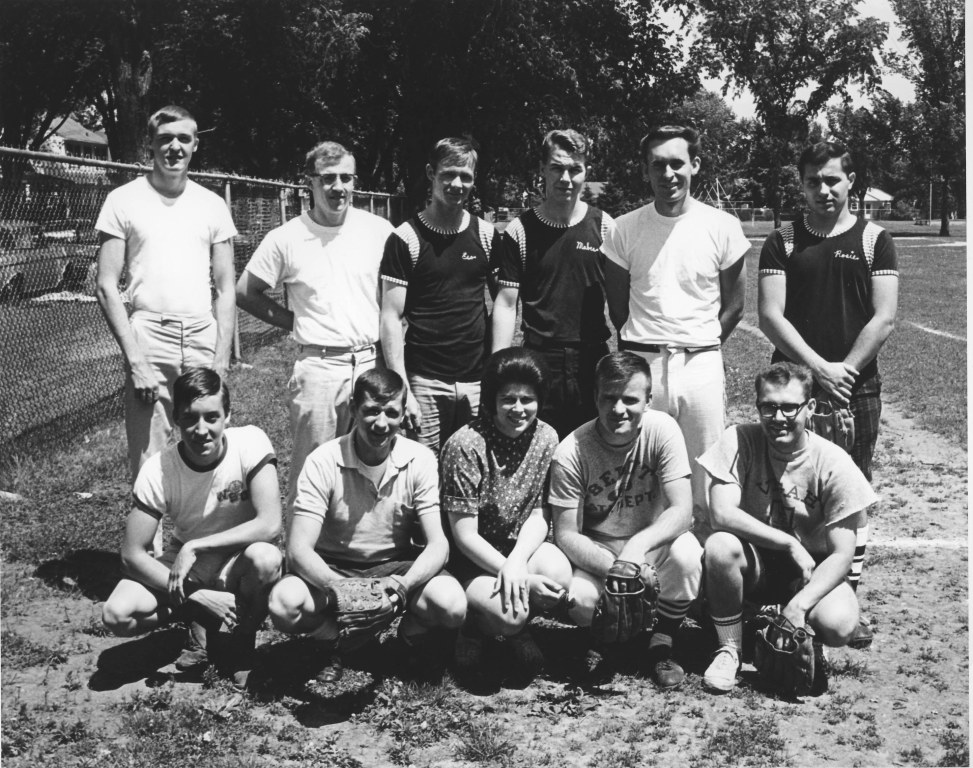 (Pop House Collection/Mike Hutchinson)
Back: Dave Peacock, Bill Dietsch, Jim Sand (Bessy), Don Schoville, Kent Hamblin, John DeNoto (Rosie)
Front: Roger Goodwin, Jim Long, Donna Luebke, Mike Hutchinson, Dave Lynch

And just for good measure, here's yet another basketball team photo from the 1948-50 era. Please check the names and let me know if I might have them right. Who is the second guy in the front row? Also… this picture is on the wall to the left of a handwritten sign that reads "Home of the Famous Pop House Basketball Team" in the next photo. (Trust me… I had to use a big magnifying glass to read it.)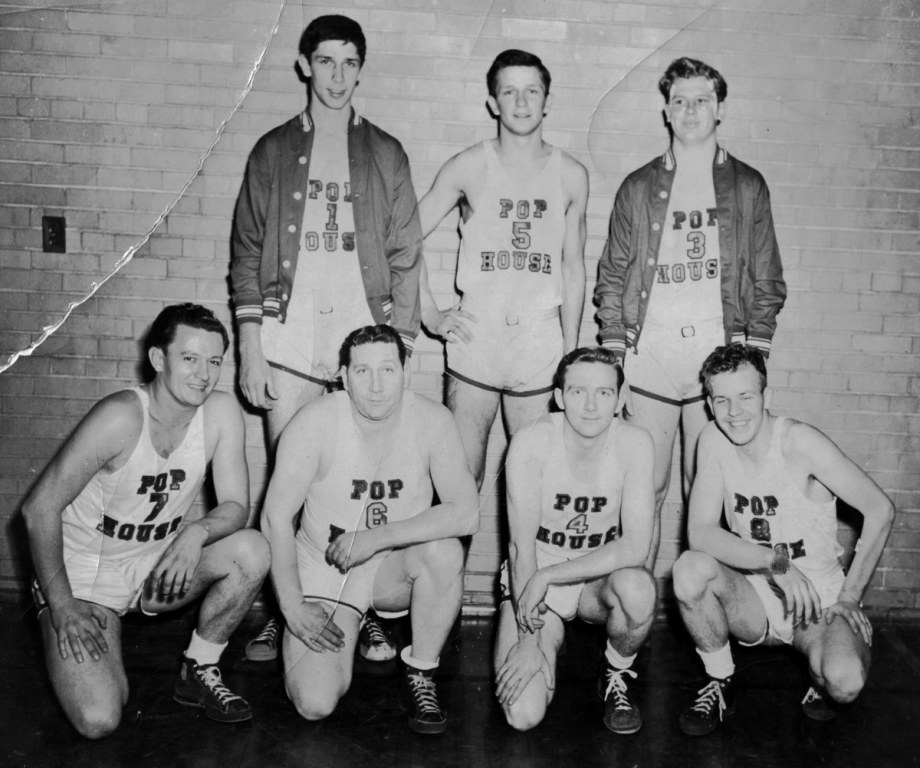 (Pop House Collection)
Back: Vince, George, Don "Goose" Tamulis
Front: Fran Dooley?, ___?, Clarence Knutson?, Carl Feldon?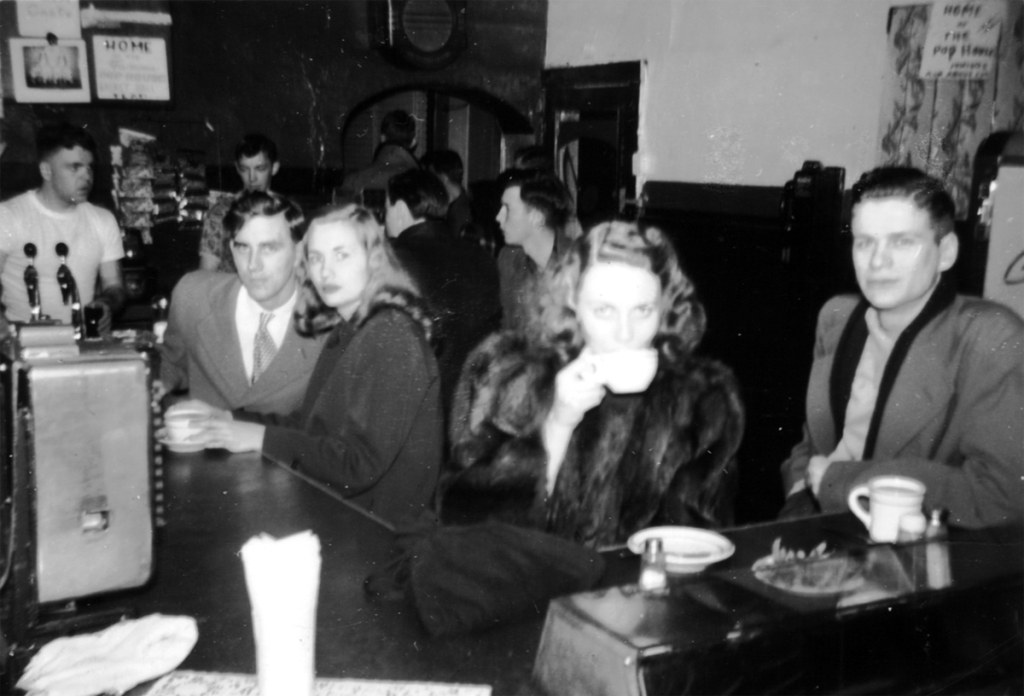 (Ida and Dick Lenz Collection)
Anyone know what year this photo might have been taken and who any of the people are? You can barely make out the basketball team photo on the wall above the head of the guy in the t-shirt.
And here are a couple more vintage photos that need some identification if possible… In this first one, the sign over the "B" is congratulating "Fran and John" for something. Is this John and Fran pictured below? What are their last names?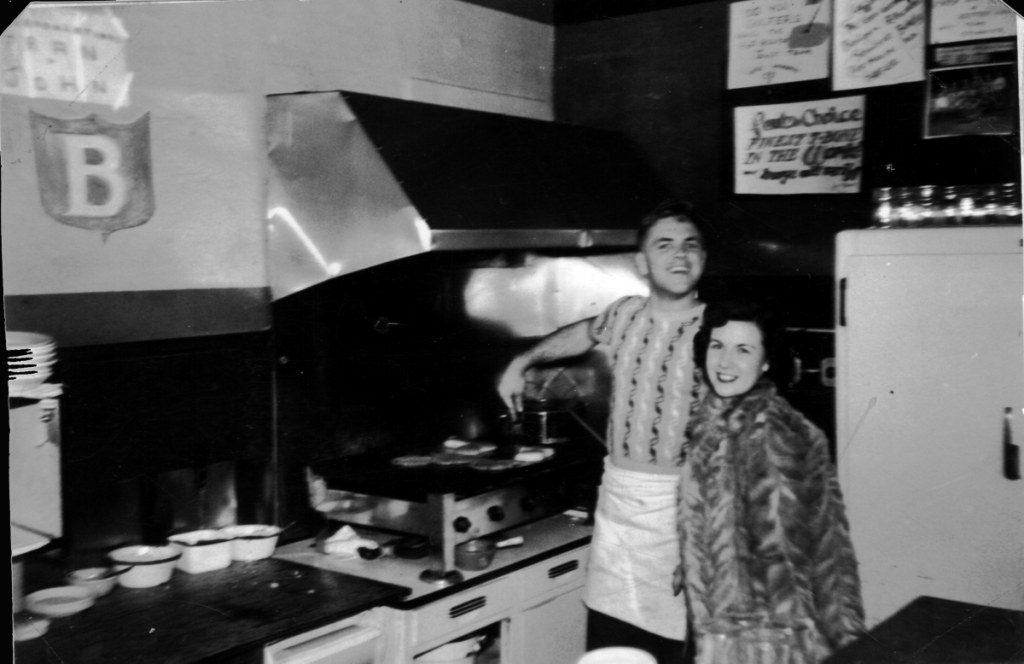 (Ida and Dick Lenz Collection)
And here is another meal being served in the original dining room, probably around 1949. The round sign above the arched door reads "Home of the Famous Pop House Softball Team". The sign on the door to the left is promoting a "Dance" somewhere. Anyone know who the server is? The diners?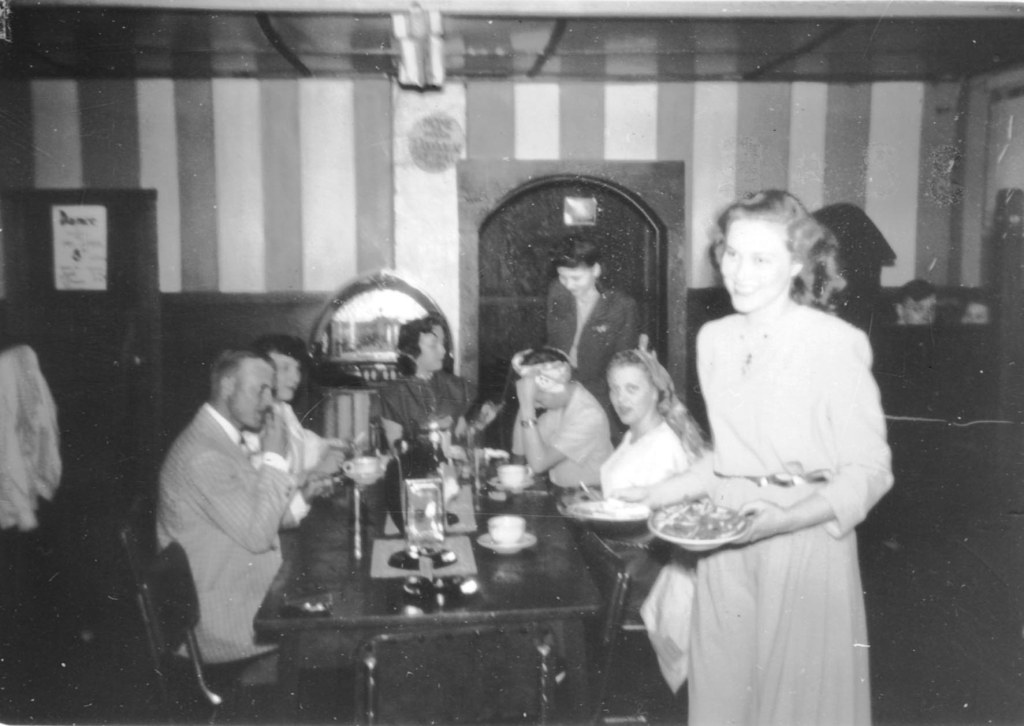 (Ida and Dick Lenz Collection)