06/13/06
This one is for Pam Barrs who asked about the Beloit band, Mic's Masters, later the Leopardmen, who played at the Pop House just before my time there. However, I do remember being at a Beloit Catholic High School Mardi Gras dance when I was in eighth grade (spring 1964) where Mic's Masters were playing. I can recall one of the songs they played… Surfin' Bird. Pam, are these the guys you mentioned… twins Roger Mickey (lead guitar) and Robert Mickey (rhythm guitar/keyboards), Chuck Voss (bass) and Jim Rogers (drums)? The Leopardmen may have included Stan Schufelt (vocal) and Steve Leitz (bass).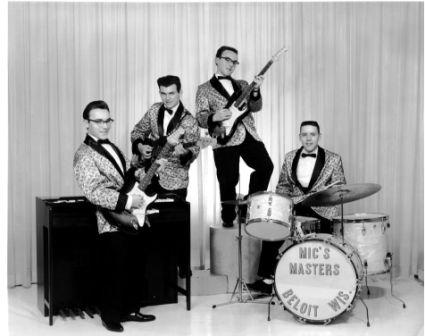 (Photo courtesy of the Stankewitz family)
**UPDATE** I should have suspected that Mic's Masters would have recorded a 45rpm single, as many garage bands in the sixties did. This one may have been the first recorded by a Beloit band. Leaf Records studio was located in Janesville and was used by a number of area bands. The song, Rock-N-Round, was written by Roger Mickey and recorded in 1963…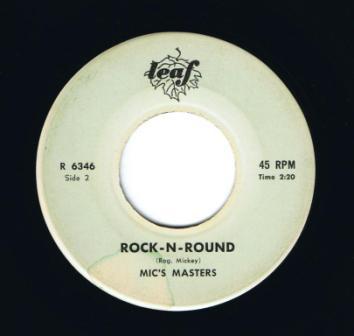 (Label courtesy of Dave Hernandez)
A couple of weeks ago, Mike Fusello, a Beloit College grad, sent me a clipping that appeared Tuesday, May 19, 1953 on page one of the Beloit Daily News. It describes the great Pop House Water Fight of 1953 that was finally brought to an end by the Beloit Police with a small tear gas bomb.
According to the nicely written story, "Generalissimo Stankewitz and two field generals, campus football stars Hank Levine and Don Smith, directed the Pop House forces, consisting mainly of Beloit high school youths. Field Marshall for the opposing college force was Mike Fusello, a student artist and journalism student whose hobbies run to water fighting."
Too bad I couldn't find any photos. Once I get further along on this project, I'll write more about it. Anyone else out there remember this good-natured battle?
Comments Off