02/15/07
Filed under:
General
Posted by: Joe @ 12:25 pm
Part of the fun (and challenge) in trying to organize this book about the Pop House is determining when or even if some of these musical acts perfromed there. There were a number of women performers and possibly a "girl group" or two that probably played at the Pop House, though I don't personally remember any. Maybe some of my pals out there can remember for me. Already mentioned in a previous post that Paul & Paula performed there. Below is a list of some other individual performers and bands with female members. If you have any recollection of seeing these fabulous females or others at the PH, leave a comment or send me an email. Here's the list so far, along with a couple of extended selections with photos :
Bernadette Carroll (1964 record: Party Girl)
Dick & Dee Dee (1963 record: Young and In Love)
Janis Garber with the Jan Garber Orchestra (big band)
The Green Men featuring Misty (see previous post about the Greenmen)
Marcia and the Lynchmen (Minnesota band; 1967 record: Won't Turn Back)
Reparata and the Delrons (1964 record: Whenever a Teenager Cries)
* The Ravelles *
I got a chance to speak with Carmella Altobelli, vocalist with the The Ravelles (later known as Sainte Jon's Academy), a band from Iron Mountain, Michigan who were a popular Midwest touring band in the late sixties. Carmella said the Ravelles were a unique band for the area as they were the only local group at the time featuring a female vocalist. This allowed the band a broader repotoire of songs that included a number of Jefferson Airplane numbers like Somebody to Love and White Rabbit. The Ravelles had a growing number of fans as they toured throughout Wisconsin and the Upper Penninsula. They played at many 18 year old bars in the Green Bay area and in 1968 released a locally made record of an original song, Psychedelic Movement, described by Carmella as "soul-psychedelic". The Ravelles opened for the Cryan Shames and Little Anthony & the Imperials in Marquette, MI and also toured with the Buckinghams around that time. Also got a chance to talk briefly with Ravelles guitarist John Richtig who is still in the music business in Iron Mountain. After the group changed their name to Sainte Jon's Academy, Madison agent Ken Adamany made an effort to promote their 1969 original song, Smile At the Flowers b/w Why Can't I Be the One, with Irwin Zucker of Hollywood-based Double Shot records but the song received only some local play. Neither Carmella nor John could remember specifically playing at the Pop House. Do you remember them?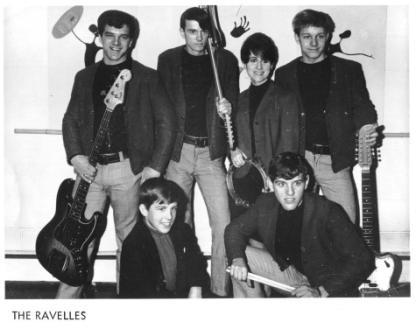 Back: Ray Brouillire (bs), Tom Lucas (gtr), Carmella Altobelli (voc), John Richtig (gtr)
Front: Brian Alquist (kb), Rand Alquist (dr)
(Photo courtesy of Stankewitz collection)
* The Tremolons *
A truly unique band, this all-girl quartet from Niles, Michigan performed from 1963 to 1965. During that time they recorded four songs for Chicago-based Dunwich records: Whole Lotta Shakin', Heartbreak Hotel, Theme for a DJ, and Please Let Me Know. The first two songs demonstrated the influences on these girls… less the typical girl-group "da-doo-ron-ron" stuff, and more Jerry Lee Lewis and Elvis rockers. The other two songs were originals, written by group leader and guitarist Char Vinnedge. The Tremolons' sound was described as hard-edged and rockin'. Char and the band changed their name to The Luv'd Ones in 1965. In addition to performing, they wrote and recorded several more songs for Dunwich records before disbanding in 1968. Tremolons and Luv'd Ones recordings are collectible and available on Sundazed Records. Do you remember seeing the Tremolons at the Pop House?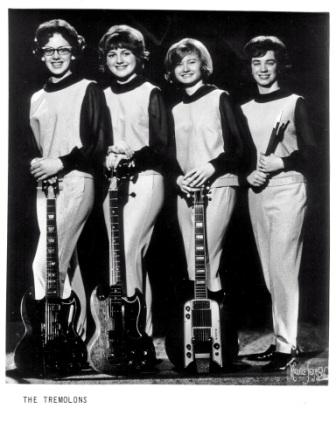 Char Vinnedge (ld gtr), Chris Vinnedge (bs), Mary Gallagher (rh gtr), Faith Orem (dr)
(Photo courtesy of Stankewitz collection)