02/07/07
Filed under:
General
Posted by: Joe @ 10:21 pm
Thanks to Dave Hernandez, I got a call from Johnny Green last week. Remember Johnny Green & the Greenmen? Great show band with dyed green hair! Had a very interesting conversation with him as he fondly recalled playing at the Pop House and his friendship with George. Johnny & the Greenmen have played all over the world and are still at it. They appeared on the 1966 Batman TV series, opened for a Rolling Stones tour, and continue to be a top attraction in Las Vegas. In 2003 Johnny received a Lifetime Achievement Award from the Minnesota Rock Country Hall of Fame. He now sits on their Board of Directors. The Greenmen were inducted in 2004. Johnny posted some interesting comments on various blog items and I urge you to read them. Thanks for your input, Johnny. This publicity shot was posted on the Pop House bulletin board to promote a show there in the early sixties.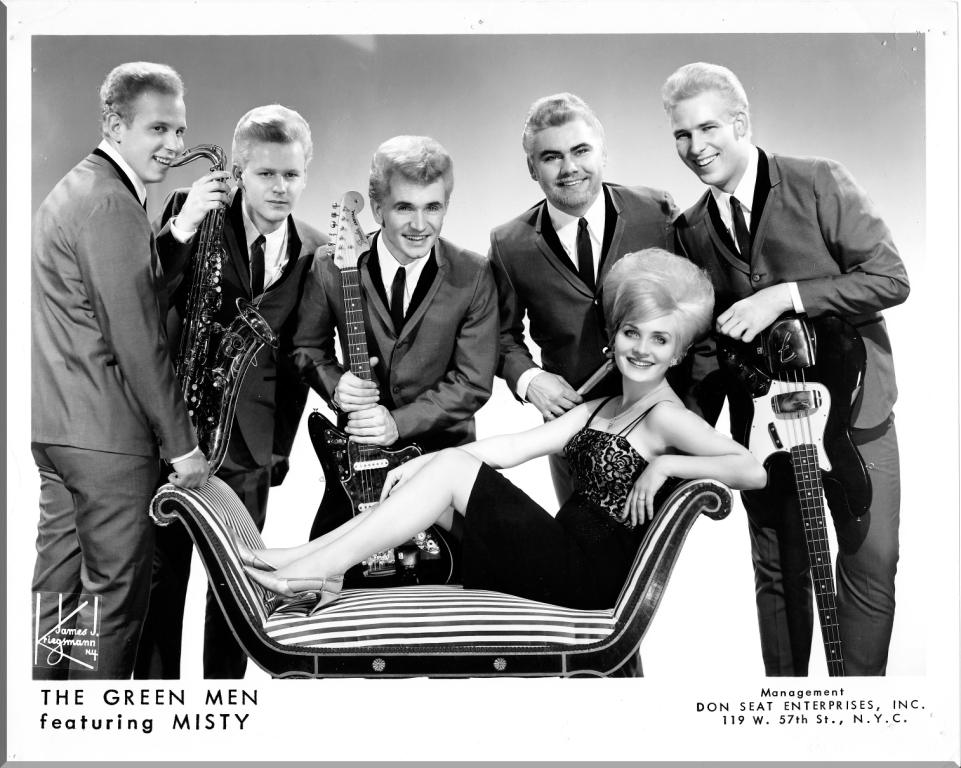 L-t-R: Howard Wales (kb), Jeff Osland (sx), Tommy Lee (gtr), Bobby Van Holten (dr), Johnny Green (bs)
Misty: Joyce Masters (v)
(Photo courtesy Stanketwitz collection)
**EVEN BIGGER FLASH** Check out Johnny Green & the Greenmen performing an absolutely wicked hot version of Pink Cadillac on YouTube at: http://www.youtube.com/watch?v=cM1F2GgB5X4 !!! There are more videos of Johnny and the band now on YouTube. Find them all at: http://www.youtube.com/user/JohnnyGreensBand
**FLASH** If you didn't see Johnny & the Greenmen perform at the Beloit Area Crime Stoppers fund raiser on February 16, you missed a good show. Johnny and his new band played great music from all eras for about five hours. At one point, he asked Dave Hernandez to come up and play keyboards for a couple songs. Dave knocked out everyone on "Play That Funky Music White Boy." I even got to sing a couple of songs with the band including "Whiter Shade of Pale." Check out the video clip captured and posted to YouTube: http://www.youtube.com/watch?v=IG5V2FfuOH4
You can read more about the band at the official Johnny & the Greenmen Web site.