01/23/07
Filed under:
General
Posted by: Joe @ 9:02 pm
I had the pleasure of corresponding with Iowa rocker Layton Zbnornik. If that name doesn't ring a bell, then maybe you remember his performance name, Jerry Martin. In the spring of 1957, when he was just 16, Zbornik and his band (Jerry Martin & the Sounds) went into Fredlo Studios in Davenport, Iowa to cut "Janet/Lovely One" on the Fredlo label. It's been documented as Iowa's first rock 'n roll record.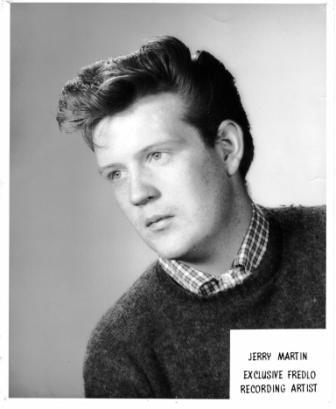 (Photo courtesy of Stankewitz family and Layton Zbornik)
Jerry (Layton) remembers playing at the Pop House several times. "It was a great place, and the owners were the greatest guys. The kids were a great audience, and I loved to play there," he said. "The Pophouse was one of my finest memories. Not because it was the biggest venue I ever appeared at, because it wasn't, but it had a spirit all it's own. I really loved that place. I once had a Pophouse jacket, but I wore it out. If I recall it was red with white lettering."
In fact, Jerry Martin might have been the first live rock 'n roll act that George hired to play there. This photo below was taken of Jerry performing at the Pop House, probably in 1958. Jerry said that being a solo act, many times he simply worked with a pick-up group from the area, and this was one of those gigs. "There was never a group called the Sounds until the group I have now," he said. "I just made that up for my Fredlo release as we thought it would sound better." Judging by the packed house, Jerry Martin and his band must have been a big hit.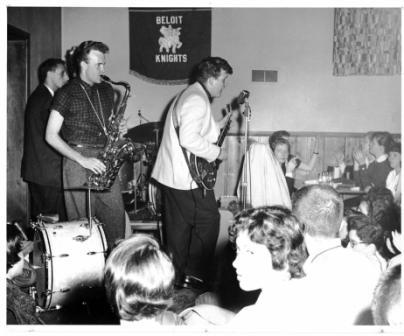 (Photo courtesy of Stankewitz family and Layton Zbornik)
In 1998, Jerry Martin & the Sounds were inducted into the Iowa Rock' n Roll Music Association's Hall of Fame . The band is still rockin' today. For a peek, click here, where info about a Jerry Martin CD is available. If you remember hearing Jerry at the Pop House, or have other information about the show, please share a comment.